Each camera YI 1080p comes in a small box similar to a new cell phone. The box is so little that you will believe something had forgotten. Inside that tiny box is everything for a single camera system. Open it up, and you'll get YI 1080p Smart Home Camera itself, which is attached to its base and, again, like a cell phone, a micro USB cord, and outlet plug. It means that you can get a spare very quickly if anything ever happens to your power cord. You'll also get some literature on setup and all that, which is pretty standard. There is no base unit like Arlo has. It's just a camera, similar to the Piper/Nest/most other systems.

The quality of the hardware is also very decent. We all know the quality difference between Lego and Duplo, an iPad, a $60 tablet, a Yugo, and a Honda. These cameras are of decent quality. Maybe not at Nest standard, but good all the same. They are not Duplo or Yugo but won't break the bank as Nest will. That about sums it up for the hardware or included materials. As stated earlier, the box the camera comes in is super small, so if you order two cameras as I did, you'll be underwhelmed at the size of the box they come in. Don't worry, good things come in small packages too.
These 1080P YI cameras come with a boatload of features. You can view them from your phone in and outside of your WiFi network, so if you are at work and want to check in on your home, you can do that. They have two-way audio so you can talk with someone or mess with your cats while you are away. Is it nighttime? No problem, these have very decent night vision capability so that they can see in pitch-black darkness. Did something move over there? These sense motion and record it.
Is something in the room always moving, like a fan but don't want to set off the motion detection? You can select a specific area of the room to detect motion in, and not other places, so if you have animals like cats or dogs that roam around during the day, set the selection area higher so it won't detect them. You can also set the motion sensitivity and alert frequency. Maybe your cat is chasing a reflection on a wall from an open window, and you don't want to get an update every few seconds constantly.
You can set the frequency lower and get fewer notifications. You can also take videos or pictures of what your camera sees at will.
Of course, all of this motion and recording can be set up to be stored on the YI servers or be saved to a micro SD card (not included, but you can get a 32 Gb Samsung from Amazon) for further review.
Have a set schedule? Maybe you don't want it to record motion at night, but you are gone for ten hours during the day. Set it up to record while you are gone. You can turn it off at will from your phone. There's also a crying baby setting. YI 1080P camera listens specifically for that type of sound and sends notifications specifically for it. You can also add many cameras to a single system and jump between those cameras at will. YI also makes a camera that can move and pivot 360 degrees.

So what about setting these things up? How hard is it? What's involved? Well, this can be accomplished in just a few straightforward steps. The first thing you want to make sure of; that your phone you are using to set these up is on the same network as the cameras. These cameras will currently only work on 2.5 GHz.
So first, download the YI Home app and start it up. Let the system guide you from here. It will show you everything you need to know, but it's pretty basic. Next, you'll hit a small plus button to add a camera. Plug in your YI camera and wait. It will take about 30 seconds to turn itself on, and it will begin talking. Click on the app that you've heard the camera speak, and your phone will display a barcode. Show this barcode to the camera, and it will log into the network. It's so simple that a child could do it.

Value. Here it is. If you've read this far, you know what's coming. This system represents a value that cannot be ignored. For two cameras and two micro SD cards, you are under the cost of a single Nest/Piper camera or the dual camera Arlo system. The features and hardware quality are a serious contender against nearly any other system on the market. Most of the time, cheap Chinese made cameras with an app system that can't be good, with features that probably don't work. All of that is wrong except for the "cheap" part, which doesn't apply to the camera build quality. This system will fascinate you.
For the price you pay, it's a decent system. The software seems to receive updates every few months, showing that the developers continue to work.
YI 1080P has any bad stuff?
Well, interacting with the system while away from home is mixed. Occasionally you may not access the cameras. The system is laggy, and it can take quite a while to get a live image to show up on the phone. Sometimes you can't get one no matter how hard you try.
Sometimes no notifications would show up about movement detected. Sometimes, when it says there was a movement on and when you look at the video, it can give an error that says the video isn't playable.
You may be uncomfortable with the privacy policy that you should agree with, including all of your information being tracked and maintained indefinitely by multiple parties.
YI 1080P's Some Nice Features:
Optional 24/7 Emergency Response Service – YI's motion alerts and live video feeds are now equipped with the option to involve Noon light's Certified Emergency Dispatchers instantly. The latter coordinate with police, fire, and EMS agencies on customers' behalf to promptly handle the situation.
Adjustable Alert Frequency: AI-powered human detected alert or motion detected sensitivity levels from high to low could set alerts. Eliminates 'false positives' are caused by flying insects, small pets, or light changes. You'll only be alerted for the moments that matter.
Works With Alexa – Officially Alexa compatible and works with any screen-based Alexa device. You can use the Alexa Skill to turn on your camera or view its live feed with a simple voice command.
Reliable Wi-Fi Connectivity – Access your camera with our mobile / PC APP anytime and anywhere, more flexible with Home/Away mode. Allows sharing your camera with up to 5 family members or friends, and view multiple cameras on a single account. Nine live feeds on the pc app are available now. Built-in support for 2.4Ghz (5Ghz currently not supported) Wi-Fi band.
Cloud & Local Storage: Six-second motion-triggered video clips will be safely stored on the Cloud for one day for free. For local storage, micro SD-cards up to 64GB are supported (micro SD-card not included).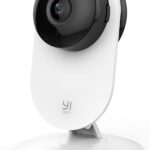 YI 1080p Smart Home Camera
CONCLUSION
Budget friendly camera with nice features.
PROS
good picture quality
budget-friendly home camera
easy set up, use
CONS
privacy concerns
notification errors
WiFi range issues