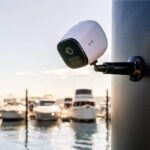 Netgear Arlo Go
CONCLUSION
Really sensible idea
PROS
Wire free
Weatherproof (protection class: IP65)
7 day free cloud recordings
Many accessories available
CONS
LTE network requires cellular connection (e.g. via prepaid card)
Battery range shorter than previous models
Arlo Go – Mobile HD Security Camera with Data Plan Review
Arlo Go has integrated all the important functions of the popular Arlo Pro surveillance camera, such as motion and noise detection, weatherproof housing, and two-way audio. These are supplemented by real outdoor functionality such as the integrated connection via the mobile 3G and 4G LTE radio network. This makes Arlo Go a good alternative for holiday homes, caravans, and other areas of the application without its router. We reviewed the compact, weatherproof surveillance camera.
Netgear Arlo Go is independent of electricity and WiFi
The weatherproof surveillance camera Arlo Go can be operated completely independently of the power supply and WLAN connection and is, therefore, the right security camera for outdoor use in every season.
With an integrated SIM card, Arlo Go ensures a mobile Internet connection anytime, anywhere. It is therefore predestined for locations that were previously difficult to cover or could only be covered with great effort with surveillance cameras. The compact all-in-one camera can be easily attached anywhere and monitors large properties and driveways that are not completely covered by WiFi, as well as construction sites, company parking lots, forest and lake properties, stables, and boat moorings.
However, it is also suitable for users who want to secure their video recordings against WLAN connection interruptions through an additional mobile network connection. Thanks to the integrated 3G and 4G modem, the Arlo Go sends any alarm triggered by movement or sound to the smartphone.
Netgear Arlo Go: Equipped to defy wind and weather
Arlo Go can be placed anywhere and operated independently of a power source. It has a rechargeable battery, but can also be connected via a power cable if required. Its battery life has been reduced to two to three months compared to Arlo Pro, because of a built-in radio modem. Also, a solar module is available that can be used to supply the cameras in the Arlo range with power – this makes Arlo Go completely self-sufficient.
With its IP65-certified housing, the security camera is also optimally protected against all weather conditions such as rain, heat, and cold. It records videos in HD quality and enables two-way audio communication thanks to the integrated loudspeaker and microphone. The connection is established via the associated app on the smartphone, which can be used to both listen and speak.
Netgear has made the Arlo Go independent of the home internet connection with a built-in radio modem for the mobile internet in the 3G and 4G LTE network. This means that the camera can now also be operated wherever there is no WiFi signal and where the security of an all-in-one camera had to be dispensed with up to now.
With its particularly wide 130-degree viewing angle, the camera covers a large surveillance area. Even at night, it does its job, just in time for sunset it switches on its night image function fully automatically. A recording is activated as soon as the integrated sensors for movement and noise detect something. These clips can be viewed conveniently via the manufacturer's cloud for up to seven days – completely free of charge. An additional local backup memory via an SD card slot bridges possible failures in the Internet connection.

Netgear Arlo Go offers a free app and cloud connection
With the free Arlo app, you are always connected to the Arlo Go camera via smartphone, tablet, or computer. One-click is enough to check the current camera image, for example. The Arlo app is available for iOS, Android, and FIRE OS and can optionally also be used via a web browser. Alarms triggered by the motion or noise sensor are sent directly to the smartphone.
With a smart calendar function, Arlo Go can be switched on or off time-controlled and thus easily adapted to everyday life. There are also other smart functions such as geofencing, which switches the camera according to the current location data of the smartphone. The integration of the Internet service IFTTT connects Arlo Go with other smart devices and services.
Installation and commissioning: Netgear Arlo Go indoor/outdoor camera
Open the battery compartment by pressing the tab on the back of the device.
Slide a SIM card into the slot provided on the left. The golden contacts should point upwards. If local data storage is required, insert an SD card into the right slot.
Remove the battery for charging and insert it again after the charging process.
Download and install the Arlo app ( Android / iOS / Fire OS ).
Attach the camera to the desired location and click the Arlo icon in the mobile view of the app or call up the configuration overview in the Arlo customer account on the PC.
Click on "Add Device> Arlo Go" and press the sync button on the camera.
Tap on "Continue" as soon as you hear a click. You will then be asked to scan the QR code.
If you hear a ringing noise, the synchronization was successful. A buzzing tone, however, indicates a connection problem.
What is compatible with the Netgear Arlo Go indoor / outdoor camera?
Conclusion on the Netgear Arlo Go indoor/outdoor camera
Arlo Go is one of the few surveillance cameras that can be used not only independently of electricity, but also from a DSL connection. It is therefore also suitable for holiday homes, construction sites, campers, or other places for which it is not worth installing your router. Also, with a separately available solar panel, Arlo Go can even be operated without regular battery changes and requires little maintenance. We think: Arlo Go is the ideal solution for holiday homes that are only visited a few times a year and are otherwise empty.