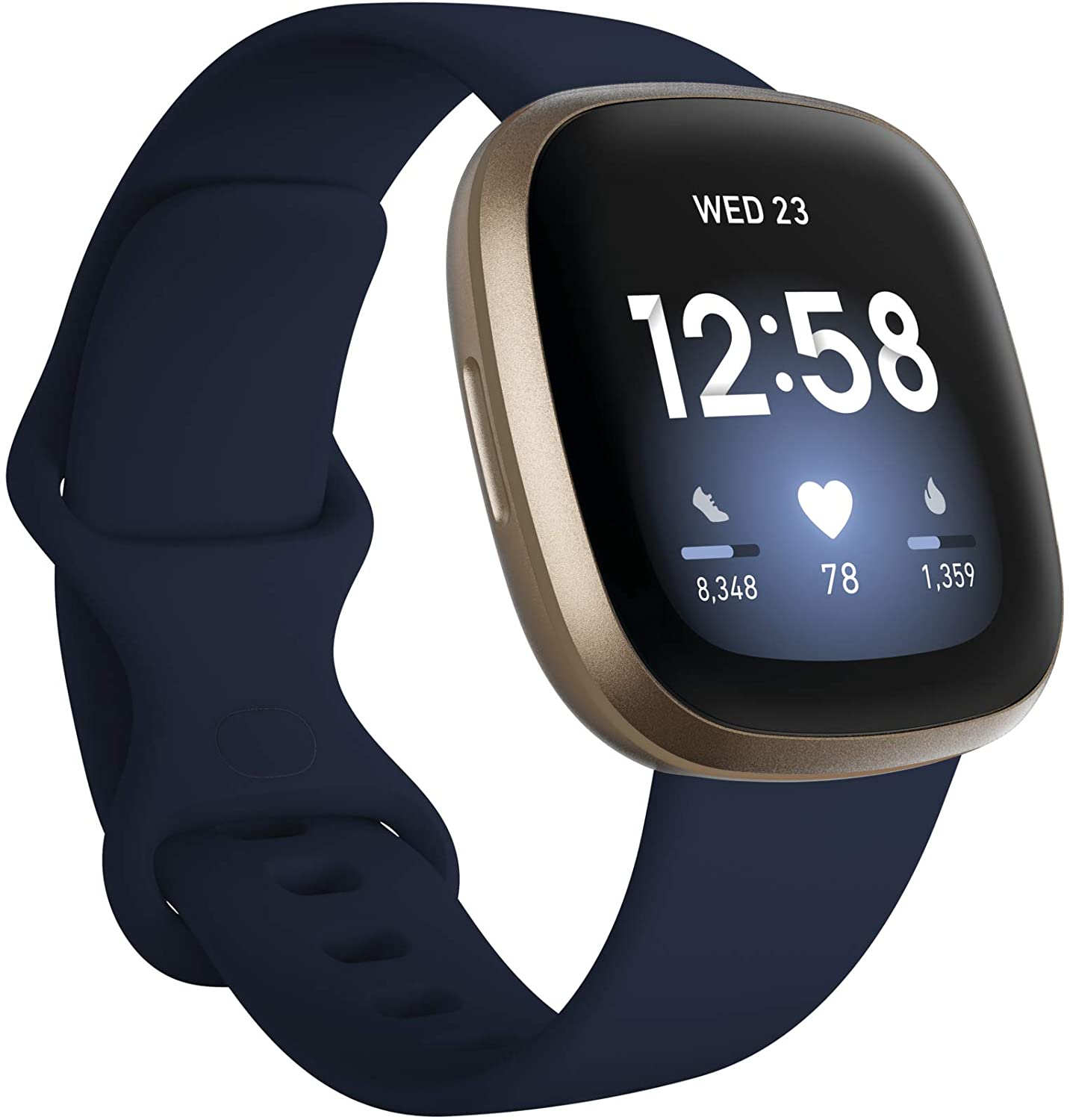 Fitbit Versa 3 Health & Fitness Smartwatch with GPS
CONCLUSION
With Fitbit Versa 3, an improved version is now coming onto the market that removes existing restrictions, significantly expands comfort, and also does not cost much more. That's why we give a clear buy recommendation for Fitbit Versa 3.
PROS
Alexa and Google Assistant directly integrated
With integrated GPS
Up to 7 days of battery life
Call acceptance via Bluetooth
Fast charge function only takes 12 minutes to fully charge
Waterproof to 50 meters
More than 20 training modes
CONS
So far only available in one size
Smartphone required for phone calls
Cannot be networked with HomeKit
Fitbit Versa 3 Smartwatch with GPS – Tests, Review and Costs
With Fitbit Versa 3, the vulnerabilities of the Versa 2 that were criticized in previous tests seem to be eliminated. Instead of having to access the cell phone's GPS mode, it has an integrated GPS. But is it better than the previous model and if so, how much more do users have to pay for it? We present Fitbit Versa 3 in the test overview and reveal what distinguishes the new smartwatch.
The look of Fitbit Versa 3 can be customized
With Versa 3, the market leader Fitbit follows the smartwatch trend set by Apple towards classic elegance, which is characterized by a square, slim display with rounded corners and restrained color accents.
If you like it more remarkable, you can combine the smartwatch with much more remarkable bracelets. For example, the Fitbit Versa 3 'rainbow' fabric bracelet or the Melon-Rosé sports bracelet with a decorative hole pattern. Alternatively, leather or knitted wristbands in different colors are also available from Fitbit. The display can be designed with a personal photo.
What can Fitbit Versa 3 do?
Inside the Fitbit Versa 3, in addition to integrated GPS and GLONASS, there is also a gyroscope, a three-axis accelerometer, an optical heart rate sensor, an altimeter, and an ambient light sensor. With its help, the smartwatch can permanently measure the heart rate, analyze the quality of sleep and track over twenty sports.
These basic functions are supplemented by cycle tracking, guided breathing exercises, personalized reminders, and the ability to calculate your cardio fitness level.
It also has microphone, loudspeaker and a vibration motor to notify the user of incoming calls and to accept them. If you like, you can even voice control your smartwatch directly via Alexa or Google Assistant and, if available, access your own smart home devices.
Also, Fitbit Pay works with major credit and debit cards from top banks and card issuers. Some of them are listed below. You can access the current list via this link.
American Express
Bank of America
Commerce Bank
Wells Fargo
Besides, music and podcasts from Deezer can be saved on Fitbit Versa 3, and Spotify playback is also possible. Also practical: if the battery is empty, it can be fully recharged in just 12 minutes.
Can you make calls with Fitbit Versa 3?
Yes, this feature will be available soon. Because Fitbit Versa 3 offers a hands-free mode thanks to the built-in microphone and loudspeaker. Via Bluetooth, users can accept incoming calls directly on their wrist – or reject them and forward them to their mailbox. However, your smartphone must be nearby.
What is the difference between Fitbit Versa 3 and its predecessor Fitbit Versa 2?
The price of the two models differs by around 50 dollars, but the Versa 3 has a lot more to offer. For example, GPS can be used directly for the first time without having to take a smartphone with you when doing sports. Bracelet options, a quick charge function, and the option to accept calls via Bluetooth are also new compared to the previous Versa 2 model.
Also, Versa has both Alexa and Google Assistant integration, while the previous Fitbit Versa 2 model was only available with Alexa so far. However, if you can do without the mentioned extras, you will find a much cheaper alternative in Versa 2.
What's Compatible with Fitbit Versa 3?
The following can be used with or via this Smartwatch:
Fitbit App ( Android | iOS )
Amazon Alexa
Google Assistant
Numerous Fitbit interchangeable bracelets, e.g. made of leather
Hundreds of apps: e.g. Spotify and TRX, for fitness, finance, weather, sports, news, and games
What does the Fitbit Versa 3 cost?
The Fitbit Versa 3 smartwatch is available in the colors Black, Midnight Blue/Gold, or Pink/Gold.
Which Fitbit is the best?
Fitbit Versa 3 is certainly one of the best. The Fitbit Sense model with Alexa and Google Assistant integration is also very high quality.
If you are looking for an inexpensive alternative and are satisfied with a fitness tracker, you will find it with Fitbit Inspire 2, for example.
Conclusion: The Fitbit Versa 3 Smartwatch
Fitbit Versa 2 was already able to convince us with numerous practical features and its good price-performance ratio. However, a few small drawbacks, such as the lack of GPS integration and the non-existent possibility to save Spotify songs, bothered us.
With Fitbit Versa 3, an improved version is now coming onto the market that removes existing restrictions, significantly expands comfort, and also does not cost much more. That's why we give a clear buy recommendation for Fitbit Versa 3.