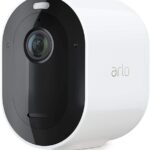 Arlo Pro 3 Spotlight Camera
CONCLUSION
Users can expect a solid interim solution that delivers more than the previous model, but less than Arlo Ultra.
PROS
Compatible with Alexa and Google Assistant, HomeKit ready
Colored night vision mode
Integrated alarm function and headlights
Local storage
Good 2K camera resolution
CONS
High price
Full functionality only with a cloud subscription
Arlo Pro 3 – WLAN surveillance camera reviewed
When it comes to security cameras, the manufacturer Arlo already knows how to impress with some models. The Arlo Pro 3 security camera offers a 2K video resolution and covers a field of view of 160 degrees. It also serves as a complete alarm system because it is equipped with an integrated LED floodlight and a siren. We subjected the Arlo Pro 3 WiFi camera to a test check and reveal its pros and cons.
Arlo Pro 3 – Design and accessories of the WiFi camera
The Arlo Pro 3 WLAN camera has a simple design and, with dimensions of 13.19 x 9.25 x 6.89 inches, is small and inconspicuous. The manufacturer offers a white or black variant. The set with two Arlo Pro 3 cameras also includes two rechargeable batteries, a magnetic charging cable, assembly tools, network cable, power adapter, quick start guide, and an Arlo SmartHub. That serves as an intelligent control center and networks several Arlo surveillance cameras.
Arlo Pro 3 Security Camera Features and Functions
With Arlo Pro 3, users not only receive a surveillance camera, but also a practical security system for their smart home. Because the camera is also equipped with an integrated alarm and a small headlight. Via the Arlo app (Android | iOS), residents receive messages about registered movements, but can also speak directly to friends who are, for example, on the doorstep, receive live videos, and all with a wide field of vision of 160 degrees. Arlo Pro 3 is also suitable for indoor use, for example, to keep an eye on the baby's safe sleep.
The functions are essentially the same as those of the slightly more expensive Arlo Ultra model. There are differences, however, e.g in terms of storage: For the Arlo Pro there is no way to save the data free of charge for a week – a subscription is required for a backup, but then for 30 days.
Important: When using a surveillance camera, residents should keep in mind that permanent filming is only permitted on private premises. Recordings of public space violate the personal rights of, for example, passers-by who use an adjacent sidewalk.
Other special features of the Arlo Pro 3 security camera:
Smart Home Compatible: The Arlo Pro 3 camera can be conveniently integrated into a Smart Home system and supports Alexa and Google Assistant as well as HomeKit integration.
Strong Battery: A strong battery is advantageous for non-wired solutions. Then users don't have to worry that the camera will be empty after only a short operation and that the battery will have to be changed or charged. With 4800 mAh, the Arlo Pro 3 battery is almost twice as powerful as that of the previous model.
Colored Night Shots: Images at night are made clear in typical black and white thanks to infrared. Since the Arlo Pro 3 security camera has an integrated LED floodlight, it can even be used for colored night shots. This can be useful not only to deter burglars but also to better identify them.
What is Compatible with the Arlo Pro 3 Security Camera?
The Arlo Pro 3 security camera can be integrated into Apple HomeKit and is compatible with Alexa and Google Assistant. This allows users to receive the images and notifications via Apple Watch or react to images via Google Home Hub and Echo Show and address intruders and visitors via 2-way audio.
Price and availability of the Arlo Pro 3 security camera
The Arlo Pro 3 security camera is available in either white or black. Users can choose between different sets. The number of surveillance cameras varies between 2 and 4 cameras that are included in the package. Those interested should be aware that there is a cost for an Arlo Smart subscription with cloud storage. The first three months are free of charge, afterwards, owners of this security setting have to pay $2.99 per camera, $36 per year per camera, so basically for the set of 3 cameras, another $100 per year. Alternatively, storage on local media is possible without a subscription. However, this option does not include any extra functions, such as person recognition.
Conclusion on the surveillance camera Arlo Pro 3
With the surveillance camera Arlo Pro 3, the manufacturer, now emancipated from Netgear, closes the gap between the already proven models Arlo Pro 2 and Arlo Ultra. More precisely, this means that users can expect a solid interim solution that delivers more than the previous model, but less than Arlo Ultra. This can be seen in detail, for example, in the camera resolution and the field of view offered. For example, Arlo Pro 2 offers 1080p resolution, Arlo Pro 3 2k, and Arlo Ultra 4k.
We particularly recommend the Arlo Pro 3 surveillance camera to people who value a high level of security. Because Arlo Pro 3 is not just a camera, but a complete alarm system with integrated LED floodlights, integrated siren, zoom function, and provides color images even at night. In the case of the Arlo Pro 3, the high level of security also has its price, a single camera starts from $169.89.
Other Arlo Camera Reviews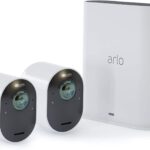 Arlo Ultra enables particularly efficient protection for demanding users
PROS
Cordless and weatherproof design
Integrated light emitter
Intercom function can be used via the smartwatch, tablet, or smartphone
Push notification of movements, then the camera siren can be activated via the app
CONS
High priced
Cannot be used with an SD card
HomeKit compatibility announced but not yet implemented
Free data storage for only 7 days, which is often far too short for holidays, longer storage only when booking a subscription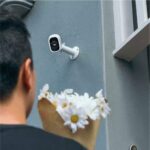 Professional solution for private users
PROS
Can be used indoors and outdoors
Compatible with Alexa, Samsung SmartHome and IFTTT
HD resolution to see details
High independence, thanks to optional operation via solar panel
CONS
Requires base station
Higher price segment, as the base station is still required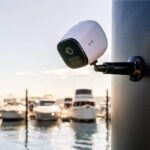 PROS
Wire free
Weatherproof (protection class: IP65)
7 day free cloud recordings
Many accessories available
CONS
LTE network requires cellular connection (e.g. via prepaid card)
Battery range shorter than previous models