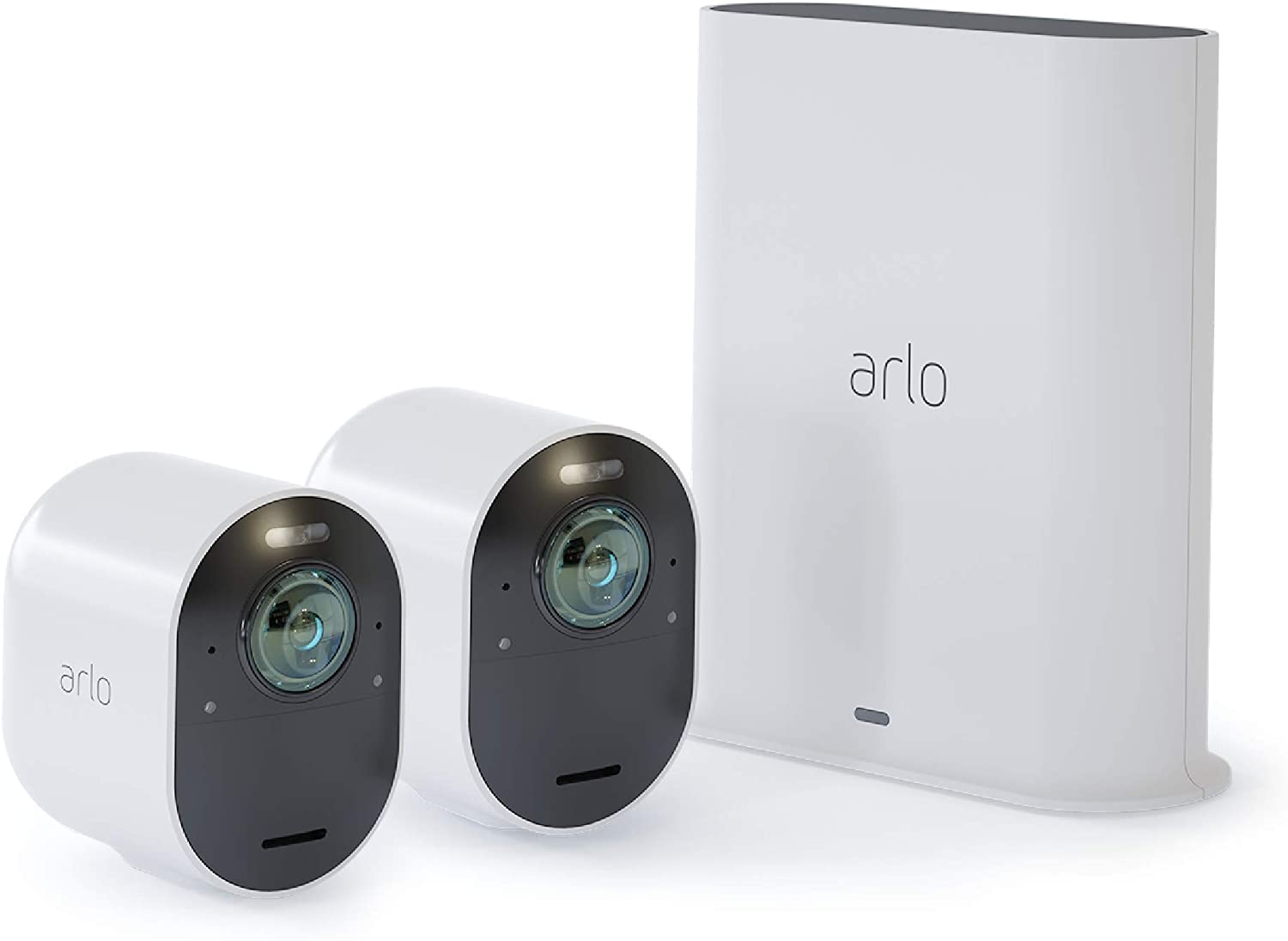 Compatible with Alexa and HomeKit
What use is the best camera if criminals cannot be recognized due to poor image quality or if the device is destroyed? To counteract this, Arlo has launched Arlo Ultra, a particularly robust, well-connected security camera. Not only does it have a night vision mode in color, a siren, and a spotlight, but it also immediately saves evidence in the cloud. We took a close look at the weatherproof, Alexa, and Google compatible premium camera. We discovered many strengths, but unfortunately also some weaknesses.
Arlo Ultra is the first security camera with 4K video quality
Those who are interested in wireless smart home cameras simply cannot avoid the tried and tested Arlo models. Two of them, Arlo Q Plus and Arlo Pro 2, have even been tested by leading experts and rated "good".
With Arlo Ultra, the manufacturer is now adding a premium camera with 4K video mode, lighting, an integrated siren, and a night vision mode in color to its product portfolio. If you have a compatible smart speaker, you can even control the Arlo Ultra WiFi camera using Alexa or Google Assistant voice commands.
Animals, People, Vehicles – Arlo Ultra precisely analyzes every movement
While most WiFi cameras simply record movement, Arlo Ultra can already react intelligently to its surroundings. When it registers movement, a push message is automatically sent to the house residents, who can then speak to visitors via the app and two-way audio function or, in an emergency, trigger an alarm siren on the camera. To comply with applicable data protection regulations, Arlo Ultra can even set certain surveillance zones. For example, the neighbor's driveway is left out, while your driveway is secured.
Arlo has also announced that the smart surveillance camera will soon be able to differentiate between animals, vehicles, people, and packages. In this way, the user is immediately notified of the delivery of the ordered goods and can tell the parcel carrier a storage location via the intercom function. Alternatively, it is also possible to record videos of evidence if strangers park unauthorized on your property or wild animals enter the garden and their damage must be reported to the insurance company.
What is Compatible with the Arlo Ultra Security Camera?
Amazon Alexa
Google Assistant
Via the Arlo app also with other Arlo cameras (e.g. Arlo 2)
Conclusion: Arlo Ultra enables particularly efficient protection for demanding users
So far, we haven't found a security camera with as many premium features as Arlo Ultra. In addition to the high image quality, the weatherproof housing, and the intercom function, we also find the push notification during your absence to be particularly practical on this model. Alexa or Google Assistant fans can also look forward to the practical voice control option.
On the other hand, it's a bit of a shame that Arlo Ultra only saves videos for seven days for free. So if the smart camera takes funny pet snapshots or captures beautiful everyday moments, these should be saved promptly. Because the backup of the data gets lost in the hustle and bustle of everyday life, it is otherwise lost after seven days. If you are on holiday for more than seven days or rarely find time to check your recordings, you should consider booking an Arlo subscription that allows up to 60 days of storage time. Subscription customers can also filter unwanted messages and choose more extensive notification options.
Arlo Ultra Security Camera pricing and availability
Arlo does not sell the 4K surveillance camera itself but refers to the ordering options at popular online retailers. There, customers can choose between bundles of one, two, three, or four cameras and the associated hub. Individual cameras can also be purchased to compliment an existing Arlo surveillance system.
See the options on Amazon.
Arlo Ultra WiFi Security Camera Technical Details
Type: Weatherproof, wireless camera
4K HD video (max. Video resolution 3,840 x 2,160 px)
Integrated spotlight and integrated siren
Night vision in color: powerful infrared LEDs (850 nm) with an infrared blocking filter
Rechargeable batteries/charging time to full charge: 2.9 hours
Network connection option
Full-duplex 2-way audio
Wide-angle lens
Image sensor: 8 MP
12x digital zoom
Dual motion detector, 150 degrees horizontal
Motion and noise detection alarms
Connectivity requirements: WiFi connection; working broadband connection with at least 2 Mbit / s upload speed
The camera can only be operated in combination with the manufacturer's Ultra SmartHub (VMB5000)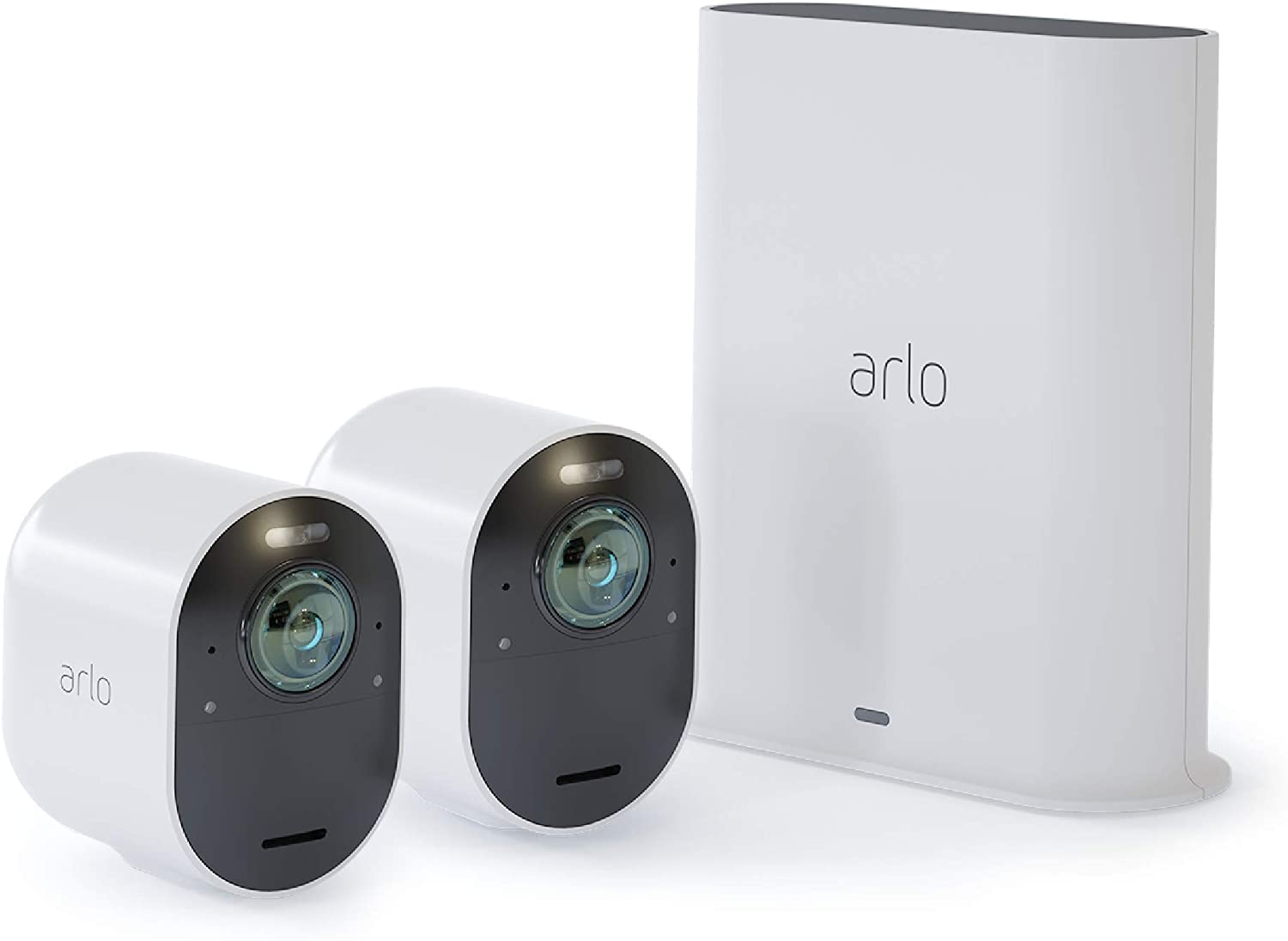 Arlo Ultra – 4K UHD Wire-Free Security Camera System
CONCLUSION
Arlo Ultra enables particularly efficient protection for demanding users
PROS
Cordless and weatherproof design
Integrated light emitter
Intercom function can be used via the smartwatch, tablet, or smartphone
Push notification of movements, then the camera siren can be activated via the app
CONS
High priced
Cannot be used with an SD card
HomeKit compatibility announced but not yet implemented
Free data storage for only 7 days, which is often far too short for holidays, longer storage only when booking a subscription