The Nest Cam Outdoor is a small outdoor version of the security camera from Nest and is intended to increase security around the smart property. Besides, the surveillance camera for outdoors offers some practical convenience functions and, in addition to its security, impresses above all with its elegant design and intelligent additional functions.
Technically, the Nest Cam Outdoor surveillance camera is comparable to the indoor version. Because it also records images in Full HD (at up to 30 frames per second). At 130 degrees, the field of view is quite sufficient for home use, especially since the narrower field of view means more details in the images. One of the smart functions of the camera is the distinction between people and objects, so intruders can be reported quickly and reliably via app alarm.
The look of the Nest Cam Outdoor is also very reminiscent of the Nest Cam Indoor, a white coating and the shape of a cone make the camera look dynamic – the Outdoor Cam can be easily integrated within the Nest family anyway. The attachment deserves special praise because it is not necessary to screw it on. The bracket adheres magnetically to metal surfaces, but the only problem is the cable. Because while the transmission of the Nest Cam Outdoor works wirelessly via your WiFi router and the video feed also without cables, the Nest Cam Outdoor needs power. The cable is to be attached to the facade with the retaining screws. Nest also suggests using an outside socket for the power supply.
The Nest Cam Outdoor is particularly functional thanks to the built-in loudspeaker and microphone. For example, the camera can be used as an intercom. You can also have the alarm messages tailored to your needs, for example limiting them to certain zones (such as the entrance area) or only triggering the alarms when someone is in the front yard. However, this requires a subscription to the Nest Aware.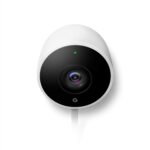 Google Nest Cam Outdoor – Suitable for Alexa or Google Home use
PROS
Elegant design
Many customization options
Voice-controlled in combination with Alexa / Google Assistant
Good picture and sound quality
CONS
Price
Subscription needed for all functions