Echo Show 10 Test and Review
With the All-new Echo Show 10, Amazon is expanding the product line of its Echo classics with a new device that has a Netflix mode and actively addresses its user. We reveal what else it can do and how it differs from the online giant's already known Alexa products.
Echo Show 10 completely changes the use of Alexa
The All-new Echo Sow 10 has a 13 MP camera and is the first Alexa display that can turn to its user thanks to an integrated motor. This also applies to the microphones that rotate with them. For example, if someone walks past him while cooking or on the phone and talks to Alexa, he turns with him. So the user always remains on the focus.
New video and drop-in effects make calls even more convenient. With the "group calls" feature, for example, a group of up to eight friends and family members can be created and contacted with the command "Alexa, call my family". To ensure privacy, Amazon promises that all data will only be processed locally and offers the option of protecting your privacy with a microphone/camera off button and an integrated camera cover.
The screen can even be converted into a digital picture frame using the Amazon Photos function. Thanks to automatic color adjustment, the photos always appear in the best possible light.
Also, the online giant has given the display an integrated ZigBee Hub for direct control of ZigBee Smart Home devices, an energy-saving mode, and a power consumption dashboard.
Echo Show 10 now with voice-controlled Netflix mode
With Echo Show 10, it is also possible to stream Netflix films on the display. Barry Smith, Partner Engagement Manager at Netflix, says: "To optimize the user experience for our members, we want to offer Netflix wherever they want it."
Amazon is increasingly focusing on environmental friendliness
Like all other new Echo devices, the Echo Show 10 display is made of 100 percent recycled textiles, 100 percent recycled aluminum die-cast material, and 30 percent plastic from recycled consumer waste. Besides, 99 percent of its packaging is made from wood fiber materials obtained from responsibly managed forests or recycled sources.
What is Echo Show 10 Compatible with?
Thanks to Alexa integration, the Echo Show 10 can be networked with all kinds of smart household appliances if required. Including coffee machines, vacuum robots, lamps, televisions, and much more. Our list of Alexa-compatible devices provides a detailed overview. It can also be used to stream Prime or Netflix videos.
How much does an All-new Echo Show 10 cost?
Conclusion on Echo Show 10
The special feature of this model has an integrated motor, which turns the screen and loudspeaker when a user walks back and forth during a video call, for example. The integrated ZigBee hub is also particularly practical, as it enables many smart components to be controlled without having to buy a manufacturer control center. Last but not least, Amazon also goes a step further with Echo Show 10 in terms of data protection and strives for local data storage.
Overall, we think Echo Show 10 is both optically and technically very good, but unfortunately, the price is not exactly cheap.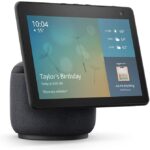 Echo Show 10 Test and Review: What can All-new Echo Show do?
CONCLUSION
We think that Echo Show 10 is both optically and technically very good, but unfortunately, the price is not exactly cheap.
PROS
Follows the movements of its users
ZigBee Hub
Easy to use
Alexa Skills
Noble design
CONS
High price
One year limited manufacturer warranty only