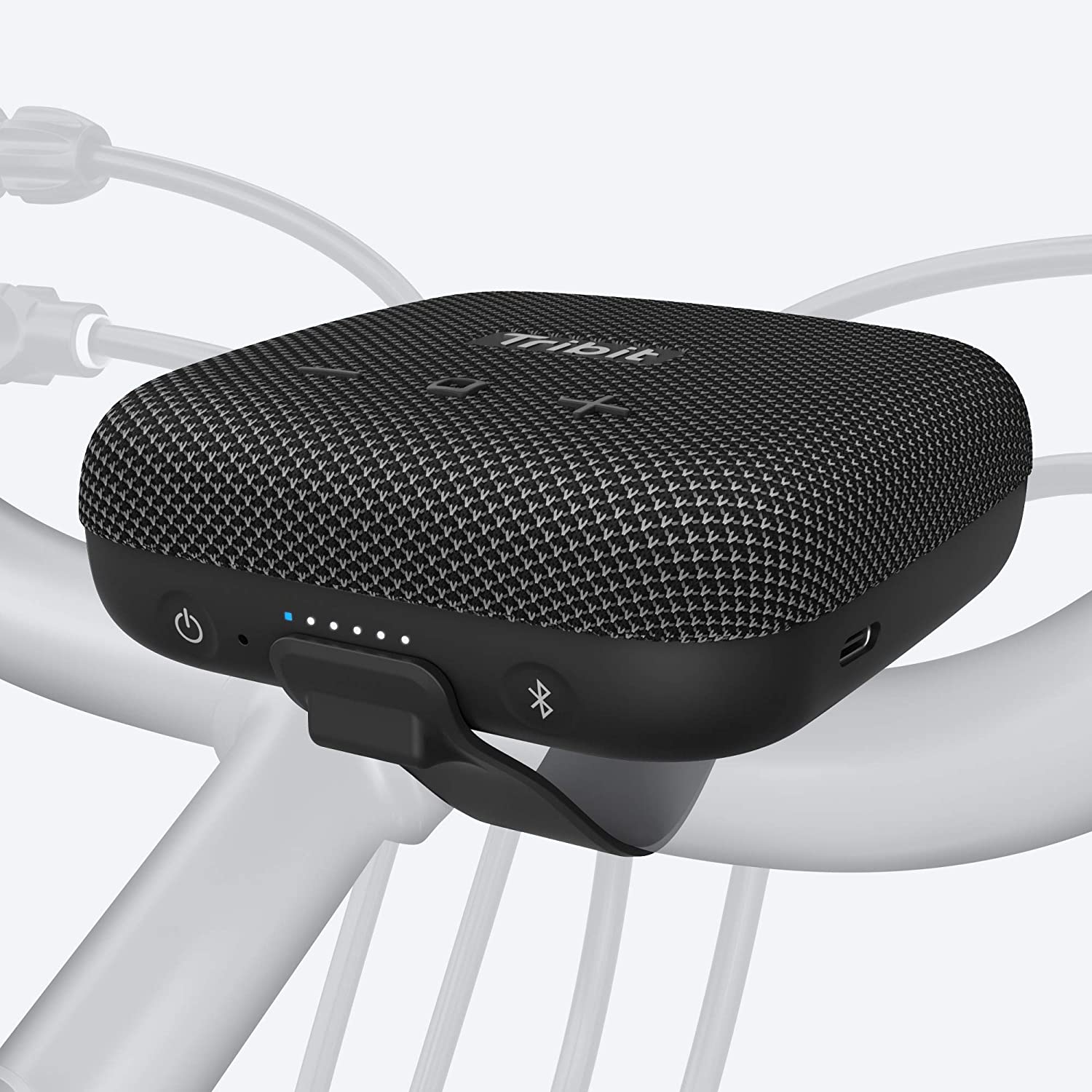 Tribit StormBox Micro – Review and Test
CONCLUSION
We recommend Tribit StormBox Micro especially to people who want to listen to their favorite playlist on the go, and that in the best sense. Thanks to a practical rubberized strap, the small musical companion can be attached to the bicycle handlebars or backpack without any problems.
PROS
Portable and fully waterproof
Uses USB type C
Good sound
Supports voice assistants
CONS
Not stereo
A bit expensive
Tribit StormBox Micro – Review and Test
Bluetooth speakers are mobile and provide music indoors as well as outdoors. Tribit takes flexibility literally with the Tribit StormBox Micro speaker and offers a compact, square speaker with a practical strap. In the test, we took a closer look at Tribit StormBox Micro and revealed whether the Bluetooth speaker could also convince in terms of sound.
Design and features
Tribit StormBox Micro fills the palm of your hand and felt valuable in the test. The upper side is covered with fine fabric, here also sits centrally the Tribit logo, below it three control buttons for navigating through the tracks, controlling the volume, and other functions.
The bottom side is rubberized and the StormBox has four small but stable feet. Between them is a practical strap, which can be opened and closed again with a click mechanism on one side. On the side are the on/off button, Bluetooth button, and LEDs that indicate the connection status and battery level. After our test, we count this as a strength; other Bluetooth speakers only announce shortly before the battery is empty that a charge is needed soon.
Inside works, a 2.600 mAh battery, and the manufacturer promises a battery life of up to eight hours. We trust the Tribit StormBox Micro with that after our test at moderate volume. After several days, only the start-up charge was necessary before the first use. The speaker is charged via a USB-C cable: A common connection that current smartphones therefore only one cable is sufficient for almost all devices.
Tribit StormBox Micro – Features and functions of the Bluetooth speaker in the test
In the sound test of Tribit's StormBox Micro, we were particularly surprised by bass-heavy songs, such as "Bad Guy" by Billie Eilish. Only at a volume slightly above room volume did the small speaker start to falter. High voices with reduced musical accompaniment, such as piano in "Tirade" by Alin Coen, StormBox Micro also played well in our opinion.
However, if instruments overlapped the voice at times, it sounded a bit scraggly at times. In our test, this was the case with the song "Solipsism" by Fenne Lily, for example. Pop songs which most people will listen to while hiking or cycling, were also mastered by Tribit in good quality considering the size and should therefore meet most demands.
In the test, we liked the many control options with the buttons directly on the device. The volume can be adjusted with the plus and minus symbols, but the function key can even be used to jump to the previous or next song, and the voice assistants can be called up. This is a clear advantage over models like the Ultimate Ears Boom 2, where only the volume can be controlled on the device. There is compatibility with Siri, Alexa, and Google Assistant.
Convenient: The box automatically connects with the last paired device. This even worked so well in the test that StormBox Micro connected to the smartphone with priority when we turned it on and used it with another Bluetooth device. In our case, we were listening to music with headphones and when we turned on the small Tribit speaker, the music switched from the headphones to the speaker and kept playing.
Other features of the Tribit StormBox Micro Bluetooth Speaker:
Stereo/Party Mode: Two StormBox Micro Bluetooth speakers can be connected to form a stereo pair. To do this, users just need to press and hold the Bluetooth button simultaneously for about 5 seconds, then the pairing will work automatically. Unfortunately, we could not test this with only one Tribit Micro speaker, but we rated the party mode as a great extra.

Water-resistant: When attached to a backpack while hiking, the Tribit Mirco Bluetooth speaker is allowed to get wet in sudden rain. The small acoustic companion can also survive short dives at the lake because it is waterproof thanks to the IP67 protection class. Those who miss a rubberized protective flap for the USB-C port do not have to worry, it is sealed and therefore protected by itself.
Phone calls: Tribit StormBox Micro has a built-in microphone and is therefore also suitable as a hands-free device. Incoming calls are accepted by tapping the function key. This worked well in our Tribit Micro test and both callers understood each other without problems. The called person did not hear himself twice and understood spoken words via the speaker microphone, just like via a smartphone. However, the call was accompanied by a quiet buzzing that was very reduced, but still noticeable and was felt to be annoying in the long run. However, this shortcoming is acceptable for shorter calls in our opinion.

Tribit StormBox Micro – further tests and reviews of the Bluetooth speaker
In further tests by other specialist editorial teams, Tribit's Bluetooth StormBox Micro was convinced with a good sound despite its small size. However, some rated the cost as too high.
JBL Clip 3 as an alternative to the Tribit StormBox Micro.
Also designed for on-the-go is the small Clip 3 speaker from JBL, instead of a rubberized strap this compact Bluetooth box has a carabiner. Unlike Tribit Micro, Clip 3 is also equipped with an audio cable input so that external devices can also be connected. With a frequency range of 120 Hz-20kHz, JBL is also ahead of the game. However, JBL Clip 3 only supports Bluetooth 4.1.
Test Conclusion of the Tribit StormBox Micro Bluetooth Speaker
Classic Bluetooth speakers are about the size of a thermos flask. Smaller models usually have to accept a loss in sound quality, as there is little room for the built-in technology. This is not the case with the Micro StormBox from Tribit. Despite its small size, the small speaker convinced us with a good sound that was more than satisfactory. The sound was nevertheless voluminous, especially in medium and lower tones.
We recommend Tribit StormBox Micro especially to people who want to listen to their favorite playlist on the go, and that in the best sense. Thanks to a practical rubberized strap, the small musical companion can be attached to the bicycle handlebars or backpack without any problems. Navigating through favorite songs does not even require the smartphone to be at hand. In the test, we positively evaluated the fact that all operating options are possible directly on the StormBox. From volume control to answering calls via the hands-free function, pausing songs, or skipping to the next or previous song.
However, we consider the price of about 50 Dollars (as of 03/2021) to be a bit expensive despite qualitative craftsmanship and a good overall package. With Tribit XSound Go or Tribit Stormbox BTS30, the manufacturer offers slightly larger but sonically stronger models that are cheaper or only slightly more expensive.