Streaming/Gaming Webcam Review– Test and Comparison 2021
This time we reviewed the top 5 streaming webcams in detail. If there's an essential accessory to make videos on YouTube or just stream on Twitch: it's the webcam! Another essential accessory for gaming/streaming is a microphone (here you can read our Streaming/Gaming Microphone Review). Whether it's a nice picture or even better, achieve super cool effects with a green background, the camera or webcam is an essential tool that will help you create connections with your viewers or subscribers.
And like any good regular PC user, we don't get the chance to have a built-in camera as we do on laptops (but we do have a more powerful computer). In short, among that countless number of streaming webcams, here is a top 5 streaming webcams for streaming or recording:
Comparison of the best webcams for Gamers/Streamers/YouTubers
After the analysis, the general setup of the famous streamers and YouTubers, as well as webcam in general, we quickly fall back on the top 5 of the currently most valued. And here are 5 of the best streaming webcams to go with your PC:
Logitech Brio 4K Webcam – Best 4K webcam for professional quality
We consider Logitech Brio 4K as an ultra-pro streaming webcam, ideal for streamers or YouTubers. Yes, you have to put the price, but the image rendering is worth it, with a resolution of 4K UHD and HDR of extremely good quality. It has a microphone and has background removal feature for those with a green background. It comes with support that allows it to show its best profile. And to do more, it also comes with the Windows Hello feature, which allows you to authenticate yourself on your PC using facial recognition. Not bad!
Logitech StreamCam – Best webcam for content creation / multipurpose
How can we not mention the Logitech StreamCam on a review for streamers and YouTubers? This small 1080p webcam with 60 FPS has a lot of interesting features, especially for content creators. This includes smart autofocus & exposure, AI-enabled face tracking, etc. also allows it to film full HD 9:16 vertical videos for beautiful rendering. Its USB-C connection makes it possible to increase the speed of video transmission more than pleased. And like all of the streaming webcams found on this review, it does very well on a tripod.
Logitech HD C922 Pro – Best performance/price ratio for streamers
One of the best webcams for gamers here. Logitech offers a webcam for streamers with a very good image quality of 1080p. It's not for nothing the C922 is used so much by streamers; whether it's streaming a live game or a video game. It can host video calls and correct up to a certain point of the brightness problems. As a bonus, it helps remove the background, which is great for YouTubers or streamers.
Razer Kiyo – Best webcam lighting for low-budget streamers
We find the Razer Kilo at a slightly cheaper price. A streaming webcam with an unusual design, but very interesting for streamers/gamers. Indeed, it is cheaper, because it focuses on the essentials: good image quality as well as adjustable brightness ring lighting that allows visual fidelity and provides better reproduction. It's a simple camera that will make good streaming easier. If you don't have too much budget to buy dedicated lighting, the Razer Kiyo is a little gold because it will do some of that work in a very correct way.
Microsoft LifeCam HD-3000 – Best Cheap Webcam HD 720p
Nothing to say on the budget side, the main advantage of the Microsoft LifeCam HD-3000 is that it allows you to have an acceptable streaming webcam at a small price. The quality isn't incredible, but enough for those who want to try starting out streaming on a very low budget. It allows you to have a live HD picture at 720p. The presence of the microphone, though of much less quality than a walking Blue Snowball microphone, is a nice bonus. This includes a "TrueColor" technology that dynamically changes the exposure to provide bright and colorful video. The disadvantage here is the huge lack of images per second even in 720p.
Logitech: The king of webcams and the safe bet of all gamers
Today, Logitech webcams are one of the most widely used streamers and YouTubers. And it's not for nothing, definitely market leaders, we can say they offer cameras of excellent image quality and at a price more accessible according to the desired area. Of course, this goes from the medium-to-professional quality with the Logitech Brio 4K Ultra. But these are good streaming webcams with lots of features and picture quality that is nice to look at. Namely, they are compatible with many software such as Xsplit, OBS, Twitch, Skype.
Elgato Cam Link: The ideal way to connect your camera to the PC
For those who want the best possible picture, Elgato Cam Link is a small accessory that allows you to simply connect a camera to your PC. So if you have a camera that can make beautiful videos, you can use it to stream from your PC. And this, simply by connecting the device to the PC without Elgato Cam Link. It has a high price, but if you already have a device or you want to do it in an ultra-pro way with optimal quality: it's top.
A good point to know: Elgato Cam Link is now compatible with all GoPro cameras and also a large part of Sony, Panasonic cameras as well as some Canon and Fujifilm cameras.
Why choose a camera if you are a YouTuber/Streamer?
A camcorder is especially useful if you stream on Twitch and you also regularly create videos on YouTube. Not only is it an accessory that allows you to film with excellent live quality (using Elgato Cam Link as seen earlier), it is also much more portable. So if you want to create the videos for YouTube in another room or even outside, all you have to do is get the camera connected to the PC and add your microphone.
Cameras to connect to your PC
If you have all the budget in the world and you want to record and make videos with a camera that offers good quality 4K or Full HD video wherever you are, here are some devices you can opt for:
So if you can't afford wherever you don't want to put too much, don't forget that sometimes the video quality of the webcam of your laptop can be enough to make acceptable videos with apps like EpocCam which is OBS-Xsplit compatible.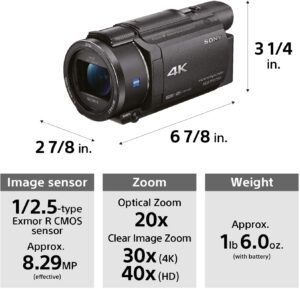 Ranking and top 5 PC webcams for gaming/stream or YouTube
In the end, here are our top 5 best webcams for streaming on Twitch, making videos on YouTube, or filming yourself during a conversation. Logitech remains the dominant brand in the webcam market.