The Best USB Flash Drives – 2021
For photos, documents, or music: The USB Flash Drives are practical and compact data storage devices that can always be taken with you. Mostly resistant to shocks and most other external conditions, it allows data to be backed up without having to be transferred to a cloud service or without the need for an Internet connection. But there are some differences between the devices – so what should you consider when buying one?
Robust Performance: SanDisk Ultra 64 GB
The SanDisk Ultra 64 GB not only impresses with its compact size but also a fast data transfer: User experiences prove that the read speed of 130 MB/s that is promised by the manufacturer is reached and even often exceeded. The number of positive reviews also proves that the probability of malfunction is quite low. The simple appearance cannot hide the practical use: The USB flash drive can be easily attached to the keychain and also serves as data storage for confidential, and private data.
Encryption is possible thanks to the software supplied by SanDisk, so no unauthorized persons can access the data. An additional advantage: The price is reasonable in consideration of the high performance and the large storage capacity.
Stylish design and low price: Intenso 64 GB Alu Line
The Intenso 64 GB Alu Line features the same capacity as our test winner – and is even cheaper. There are also no compromises in terms of reliability. However, one disadvantage is the fact that this USB flash drive only supports the USB 2.0 version.
Compared to the faster USB flash drives (USB 3.0), the data transfer speed is only 28 MB/s for reading and 6.5 MB/s for writing. It depends a lot on your requirements whether this is a problem or not. For smaller files or a patient-user, this is not a problem; those who want to transfer videos in a short time, for example, should better go for a competing device. Sadly, this flash drive can't be attached to a keychain either. The strong outer material is positive; the stick is completely made of aluminum. A cap also protects the USB port against damage.
High capacity and high performance: SanDisk Ultra 128 GB
The SanDisk Ultra 128 GB manages to combine a high level of security via the included encryption software with a technically high-quality design and lots of storage memory. This USB flash drive is well worth a recommendation for anyone who does not want to sacrifice quality and storage capacity. For example, the SanDisk Ultra 128 GB can also be used to backing up videos or other voluminous files.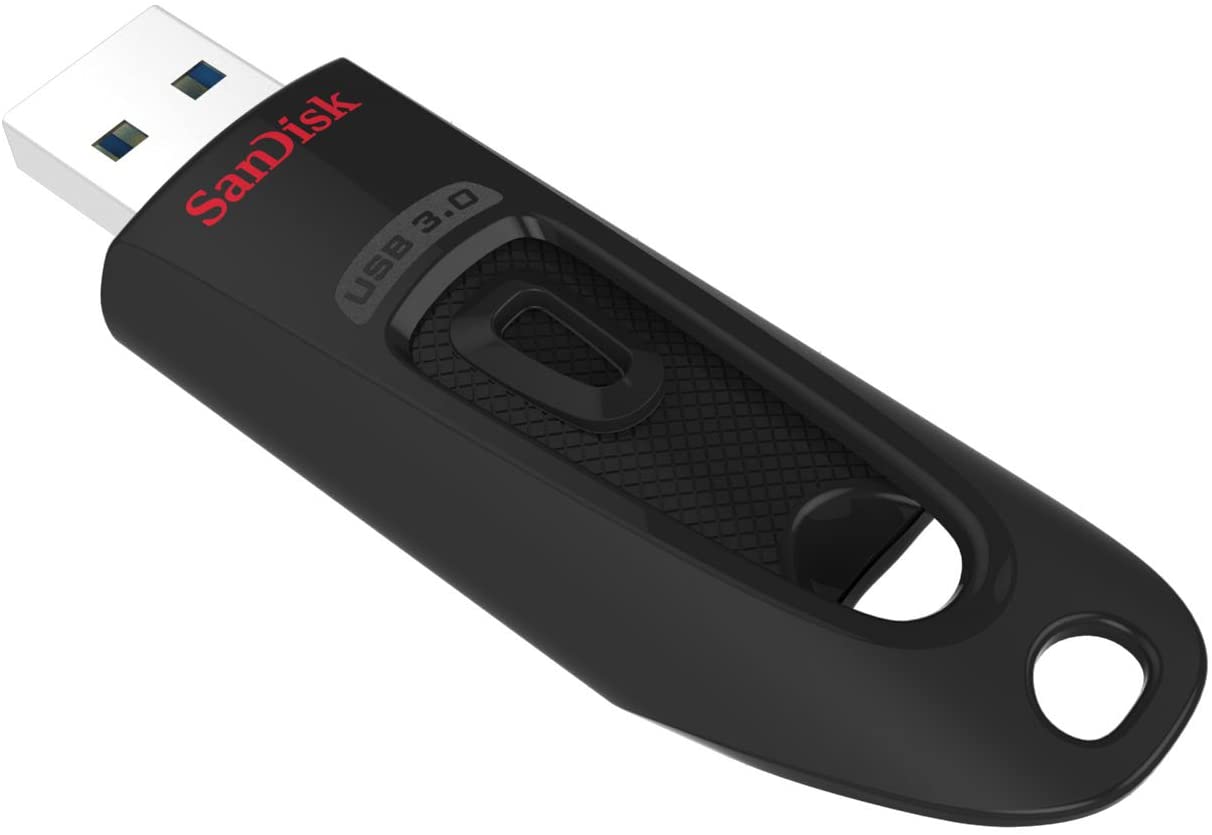 With 128 GB of storage capacity, it is even imaginable to use this product for backing up your hard drive. The USB 3.0 standard is supported as well, so the files can also be transferred very quickly. Unlike many competing USB flash drives, the USB port is not protected by a cap, but there is a button on the case that allows the sensitive port to slide into the case so that it does not get damaged.
Performance for the budget-conscious: SanDisk Ultra 32 GB
When it comes to performance, you do not experience any limitations with the SanDisk Ultra 32 GB. Users of this SanDisk Ultra 32 GB were also impressed by its robustness and fast data transfer. Compared to the larger models, the storage capacity is limited to 32 GB. If the flash drive is mainly used for photos or documents, this may be sufficient with no problems – most users do not want to store large-format files on a USB flash drive.
Despite the low price of considerably less than 9 dollars, security is also guaranteed: With the purchase of this stick, the SanDisk SecureAccess software can be used to encrypt personal data. In conclusion, sensitive passwords or accounts can be secured on the flash drive without fear of unauthorized access. The relatively low storage capacity of 32 GB is not a problem here either, because such information does not take up much storage capacity.
Conclusion and recommendation to buy
Our comparison shows that low-priced USB flash drives with high performance are available on the market. In general, the performance is sufficient, and the quality and probability of malfunction are also acceptable. However, when buying a USB flash drive, it is important to make sure that the storage capacity meets the user's requirements.
Preferably, you should think about what you want to store on the USB flash drive in advance. Then it is possible to estimate quite precisely how much storage capacity is needed. For documents and photos only, 32 or 64 GB are often enough. However, if videos or an entire music collection are to be stored, 128 GB is usually the better and rarely more expensive choice. On the other hand, if you need a USB flash drive with a capacity of 256 or 512 GB, the cost is higher. The costs here usually rise disproportionately.
The maximum transfer speed also becomes the main consideration, especially in connection with larger USB flash drives. A USB 3.0 or even 3.1 stick has a definite advantage over a USB 2.0 stick. But this is only about the speed of the USB port, which does not say much about the flash memory. Therefore, the manufacturer's specifications should be considered together with the user reviews.
Finally, security also has an important role to play. While some high-quality USB flash drives even have hardware encryption, the rule is that software is also included, as is the case with SanDisk. The safety factor also affects the quality of the USB stick's case, some of which is even splash- and shock-proof. An especially compact case that can be carried on a key ring and then easily taken with you is another advantage of modern USB flash drives.