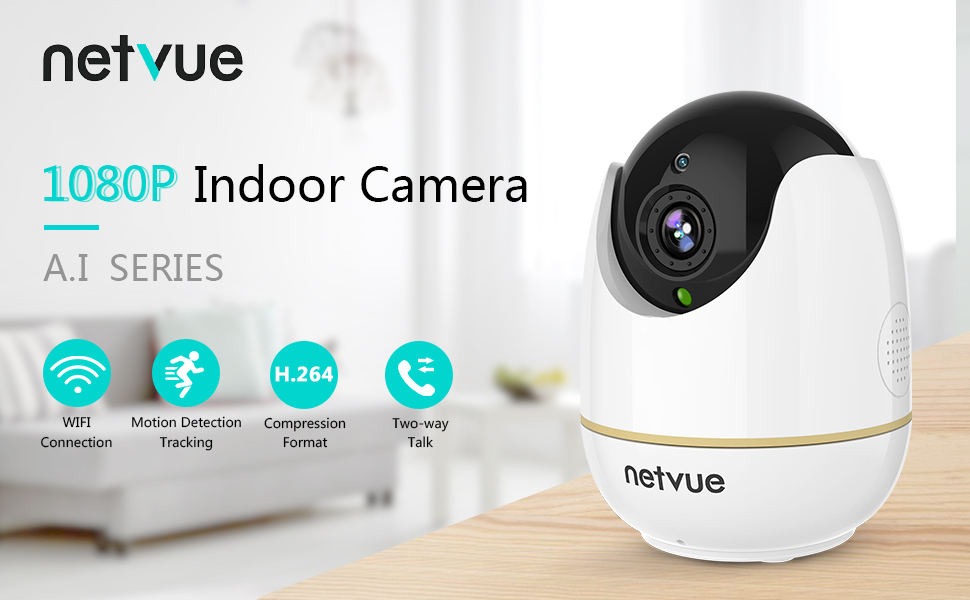 Netvue 1080P OrbCam Pan & Tilt Indoor Security Camera with motion detection and upcoming AI updates is highly effective as a quality HD picture quality surveillance device. It can remotely tilt and uplift the camera angle up or down from with a touch from the Netvue App. It can be placed upon the table, floor, or used with the wall connection device and screws included in the box.
Pan & Tilt feature is sluggish and does not allow for small adjustments, and it can be a little noisy.
Linking this camera to your account is straightforward and easy to do. Also, setup is easy to do than most WiFi plugs and wall switches.
Each time an animal enters the Netvue Orb view, the device sends a notification to your devices. Netvue 1080P OrbCam works with Alexa so you can combine your Alexa Devices. Additionally, it works well with the other Netvue cameras in which Amazon Alexa vocalizes, "motion-detected."
The only issue you might face is the overall reliability. Occasionally, the camera needs to be rebooted or does not demonstrate that it recognizes movement. The Netvue communication service is very loyal in communicating via email daily to resolve issues, answer questions, and offer to troubleshoot as needed.

It's interesting to see your dog's reaction. However, if this camera is not mounted and set on a bookcase, the Pan & Tilt feature will not angle down below the level of the item it is sitting on, which means you may not see your pet walking around. From the point of view camera, one gets to see another angle of their loved ones.
2.4GHz WiFi Connection may seem slow, but it is reliable with little connection interruptions.
Netvue 1080P's Some Nice Features:
Netvue brings Artificial Intelligence to this Netvue camera. Equip with AI effectively avoids "false positives" caused by pets, winds, or leaves. When motion is detected, motion video is triggered, and Smart Clip starts recording. If humans detected in the video, Netvue App would alert you immediately. Also, the home camera's sensor sensitivity levels from high to low depending on your demand for baby/pet monitor. This Netvue pet camera will smartly alert you daily.
Pet camera with a phone app features a high-resolution 1080p, 100°viewing angle, 360° horizontal angle lens, and digital Pan/Tilt/Zoom.PTZ lets you control dog cam remotely using the Netvue
An app so you can see multiple views of your room while you're away. Or, have Netvue security camera monitor your room automatically by setting four predefined waypoints. It can be shared with others; thus, you can enjoy sweet memories with your family by using this dog camera with audio.
Netvue dog monitor uses AWS(Amazon Web Services) Cloud to provide up to 30 days of cloud storage. Or, record continuously to a MicroSD card (not included, up to 128GB) regardless of motion and sound. Both can replay 14 days videos. Also, this surveillance camera will secure your data storage and every significant moment, protect your privacy with bank-level AES 256-bit encryption and TLS Encryption Protocol.
Wifi baby monitor pet monitor is equipped with 10*850nm infrared LEDs, auto-switching to night vision mode when the environment is dimmed. A baby monitor that connected with iPhone and Android can view up to 32 feet in 1080p FHD even in the pitch-black night. With video instructions on NETVUE App, you can easily set up this baby video monitor. Quick 2.4GHz Wifi Connection, fast wifi set up via a mobile app on iPhone/Android smartphone/tablets (it can't support MAC).
With clear two-way audio, this doggie camera with audio and app allows you to have a real-time conversation with your family members or dogs like talking on a phone. Netvue wifi security camera connected with iPhone for home security work well with Alexa, such as Echo Show. A simpler, clearer, easier communication with Netvue security camera 1080p wifi pet camera. Netvue has CE, FCC, and RoHS certified.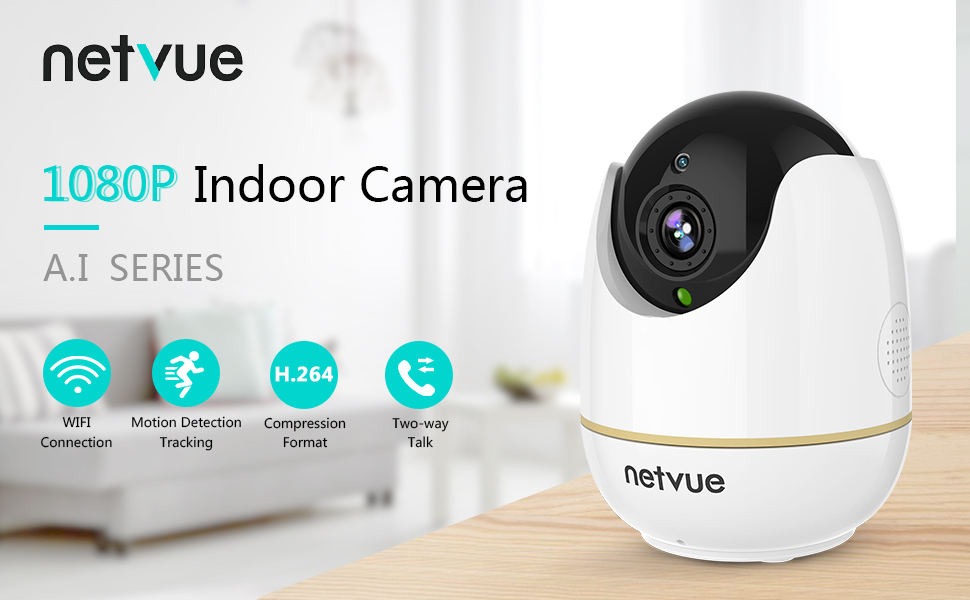 Dog Camera – Netvue 1080P OrbCam Camera for Pets/Baby
PROS
user-friendly mobile app
Image quality
easy to set-up
CONS
Noisy motor
small size