Sonos Multiroom System – Sonos One, Sonos One SL, Sonos Move, Sonos Five, Sonos Sub, Sonos Beam, Sonos Arc
Sonos Multiroom System: Sonos is a speaker manufacturer that most people think of when it comes to multi-room systems. Music lovers get their money's worth with a wide selection of Sonos WLAN speakers. Also, soundbars complete the range and give Hi-Fi fans a cinema experience with surround sound. In our Sonos review, you will find out what audiophiles can expect from Sonos.
Sonos Multiroom System in overview – The most important things in brief
If you are a music lover, you can create the ideal conditions for perfect sound within your own four walls with WLAN speakers. There are several ways for you to connect the speakers to each other:
Stereo Sound: Two speakers are connected and enhance the sound experience. Depending on the model, Sonos speakers are compatible with each other. An additional option would be to expand the system into a multi-room system.
Surround Sound: The home theater experience is acoustically drawn into the room. What Sonos offers are soundbars that already have a 3.0 or 5.0 home theater integrated into one soundbar. With Sonos Soundbars, you can connect to Sonos speakers to further expand the room-filling sound. It is also possible to expand them as part of a Multiroom System.
Multiroom System: Party lovers can use multiple speakers but also the soundbar as part of a multiroom system. In this case, the same music can be played in different rooms or even in different rooms. Except for the Sonos Sub, all Sonos products are multi-room compatible. The compatibility is only with Sonos products.
Sonos One
Features built-in voice control. When combined with a second speaker, superior stereo sound and can later be part of a growing multi-room system. Possibility to set up surround sound in combination with Sonos soundbars.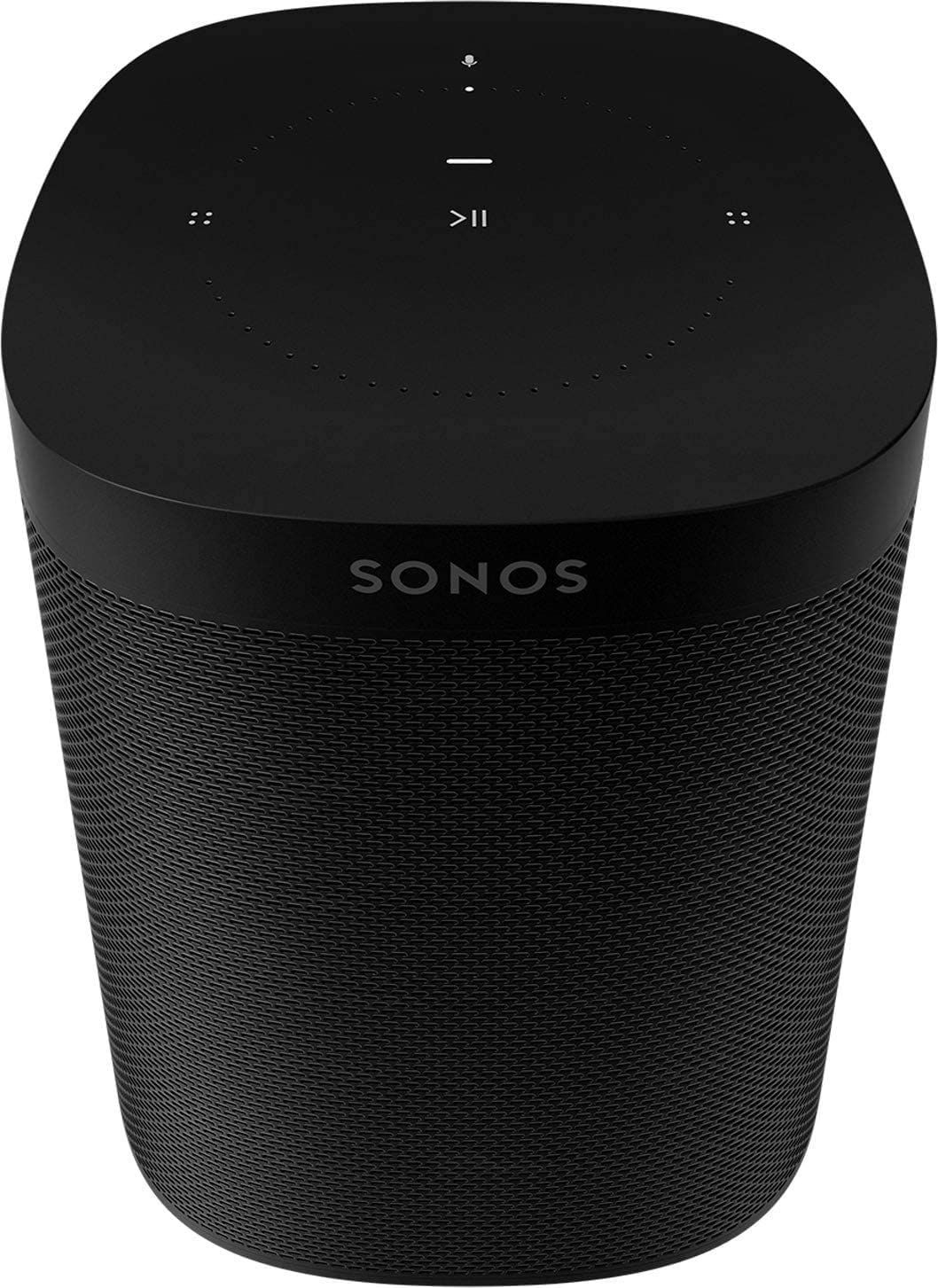 Sonos One (Gen 2) – Review
CONCLUSION
The Sonos One is a classy speaker. Its sound performance meets even higher demands and thanks to the integrated voice assistant Amazon Alexa and Google Assistant, owners of a Sonos One enjoy a considerable advantage compared to an Echo or Google Home: Sonos is an open system that allows users to use streaming services without being tied to them.
PROS
Amazon Alexa and Google Assistant voice control integrated
Touch controls
AirPlay 2
CONS
No bluetooth
Speech recognition could be better
Alexa voice is often perceived as too loud
Sonos One SL
No built-in voice control for privacy skeptics, though. All the same features as the Sonos One, except for the lack of integrated voice control.
Sonos Move
With Bluetooth and WLAN support, Sonos Move is also portable. But Bluetooth does not allow for stereo or multi-room.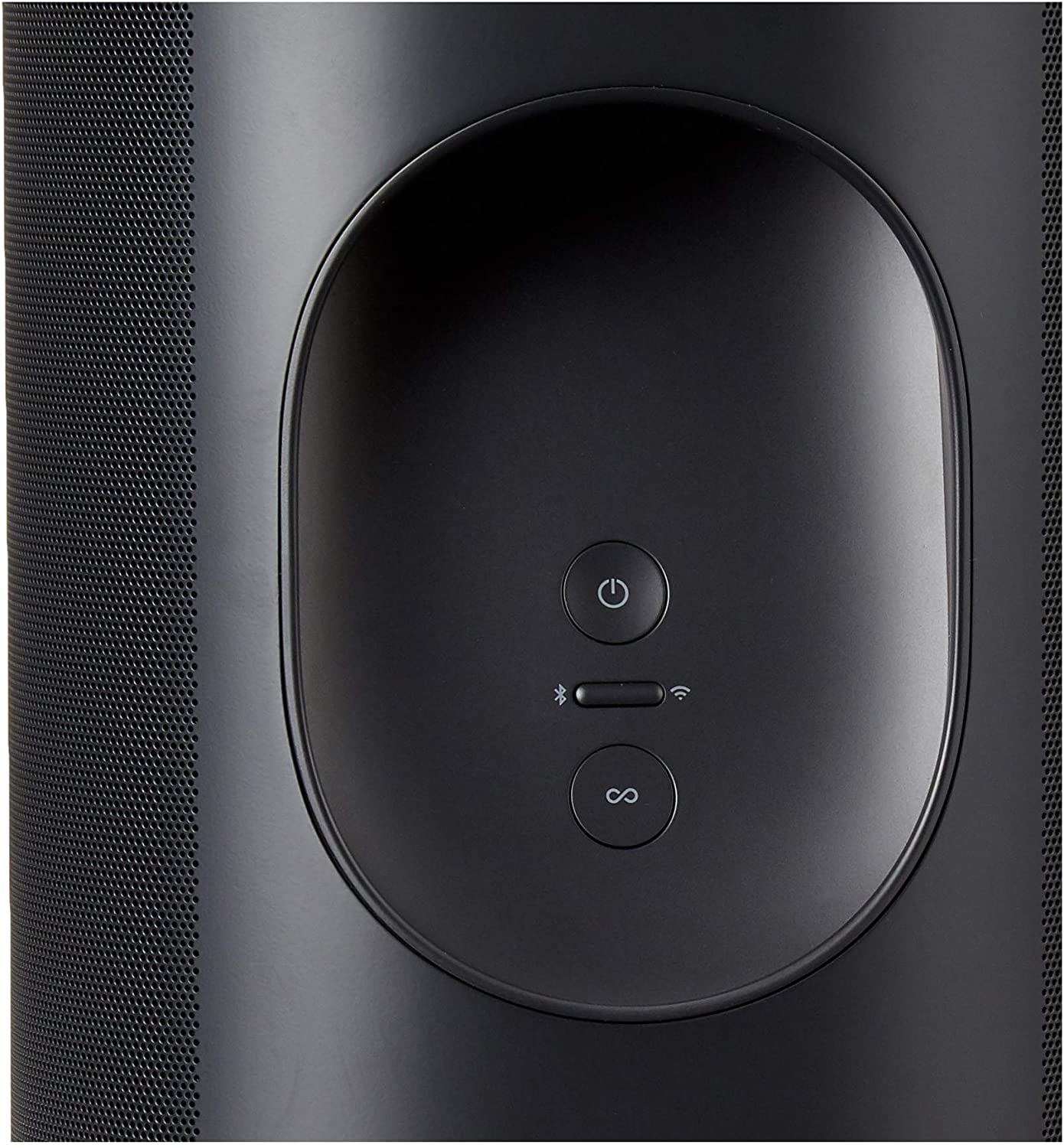 Sonos Move – Test and Review
CONCLUSION
The Sonos Move is the right choice if you are looking for a speaker that has both Bluetooth and multi-room capabilities. It is especially useful if you already own other Sonos devices, as the Sonos Move is a perfect addition that you can now take outdoors.
PROS
High quality
Nice charging dock
Great mobile app
CONS
High price
Quite heavy for a portable speaker
Sonos Five
The Sonos Five's design supports stereo sound as a single speaker. It is also multi-room capable.
Sonos Five – Test and Review
CONCLUSION
Sonos has equipped Sonos Five with a powerful processor and more memory to meet the requirements of streaming services with higher bit rates. If you still own the predecessor Sonos Play:5, you do not necessarily have to buy the new model right away. Audio enthusiasts who are looking for an entry into the largest possible HiFi streaming universe will feel comfortable with the speaker. Finally, Sonos has not integrated microphones and voice assistants into the Sonos Five. That is something we would have expected at this price.
PROS
Good sound
Supports a wide variety of streaming services
Automatic room adjustment
Stylish design
CONS
High price
No built-in microphones and voice assistants
Sonos Sub
With Sonos Sub, you can add bass-heavy frequencies to existing Sonos speakers. It is therefore not recommended as an entry-level model.
Sonos Beam
Sonos Beam ensures great TV sound, but it is also multi-room capable. It is more suitable for TV movies than just listening to music.
Sonos Arc
The Sonos Arc soundbar provides Dolby Atmos sound and offers a 5.0 home theater experience. It is also multi-room capable. The main focus is on audio playback of movies, has no issues even with whispered dialogues or conversations during action scenes. It is suitable for Netflix/Amazon Prime fans.
Comparison of Sonos speakers – Reviews and recommendations
All the Sonos WLAN speakers and the compatible Sonos Sub, which adds powerful bass sound to the Sonos Multiroom System, are reviewed below. Play:1, Play:3, and Play:5 are not mentioned, because the mentioned models are modified and similar variants.
Sonos One vs. Sonos One SL – The classic speaker for music fans
The Sonos One speaker is the new version of the Sonos Play:1 soundbox. At first glance, there are hardly any differences visually and technically. What is special is that Sonos One has built-in microphones and is already equipped with integrated voice assistance. You can choose between Google Assistant and Alexa. It is not possible to use both on one speaker at the same time, though.
The speaker is the only model in the Sonos Multiroom System Test comparison that is available in two models. If you can do without the smart features and otherwise want to benefit from the identical sound, you should rather go for the Sonos One SL speaker. Except for the missing microphones and integrated voice assistance, the Sonos One and Sonos One SL are the same.
If you control your smart home via voice, you can navigate directly through music and podcasts with Sonos One. It is especially useful because no separate smart speaker, such as Amazon Echo, is needed. Another advantage is that users do not have to make the purchase decision dependent on a certain voice assistant, since there are several integrated with the Sonos One.
Sonos Move – WLAN and Bluetooth-enabled alternative for indoors and outdoors
As the name suggests, WLAN speakers are connected to the home WLAN network. This is not the case with Sonos Move, as it is the only Sonos speaker that is WLAN- and Bluetooth-enabled. In other words, users can switch between the two wireless connections at the touch of a button. As a result, there is nothing to stop Sonos Move from providing music enjoyment even without a Wi-Fi network.
Thanks to the integrated rechargeable battery, the Move can play music for up to 11 hours. The protection against splash water is another unique advantage. Sonos' other models, such as the Sonos One, are only resistant to moisture and you can leave them in the bathroom without any problems. But those models, except the Sonos Move, are not able to resist rain. If you want to use the Sonos Move as part of a stereo pair or multi-room system, you have to enable Wi-Fi – Bluetooth does not allow for multi-room because the data throughput and speed of Bluetooth are not enough.
If you are looking for a mobile Bluetooth speaker at the same time, we recommend the Sonos Move WLAN speaker. As with Sonos One, both Alexa and Google Assistant are already integrated. This makes the Sonos Move a hybrid and also a Bluetooth speaker that provides rich sound in the swimming pool or at the lake, for example.
Sonos Five – recommendation for wide stereo sound
The Sonos Five WLAN speaker is an improved version of the Sonos Play:5. If you want to customize the sound to your needs, you can do so via the equalizer in the Sonos app (Android | iOS). Compared to the Sonos One and Sonos Move, the Sonos Five speaker does not emit the sound with 360 degrees, but frontally. This is another difference to the already mentioned Sonos speakers: When placed horizontally, a Sonos Five provides stereo sound by separating the left and right channels. If they are connected to form a stereo pair and placed vertically, they automatically switch to mono and form stereo sound together. It is an exciting characteristic for room-filling sound. Being the only Sonos speaker in the Sonos Multiroom System Test Comparison, Sonos Five has a 3.5 mm analog input. This allows users to connect a new record player to the Sonos speaker, for example.
Our recommendation for Sonos Five is for people who want to enjoy stereo sound with just one speaker. This way, Sonos beginners create the basis to expand their home to a multi-room system with additional Sonos speakers. But there is no voice control integrated.
Sonos Sub – More bass for the sound system
Sonos Sub in the Sonos Multiroom System is the only speaker that must be connected to other Sonos speakers. It is responsible for powerful bass as a subwoofer. As with Sonos Five, the upgrade of the third generation is mostly technical: More memory, better CPU, and a new WLAN chip. These changes are Sonos' way of preparing its speakers for HD streaming. Sonos calls the "Force Cancelling Driver", which stands for components that prevent clattering and rattling with powerful bass. With that, the company guarantees the bass a noise-free stage with Sonos Sub.
Our recommendation is to use the Sonos Sub to modify the home theater or to increase the sound experience in combination with two speakers, for example. You can connect the sub with the Sonos Beam soundbar or with the manufacturer's speakers. In this case, home theater 3.0 becomes home theater 3.1, because the subwoofer is the element for the 1st speaker.
Because natural sound propagation is interrupted by walls, the sub is only suitable for use with speakers in a particular room. The sub is not capable of boosting the bass for an entire Sonos Multiroom system. When connected to Sonos speakers in different rooms, the result is more of a degraded sound experience.
Sonos speakers for a multi-room system in comparison
Sonos One is a superb speaker with optionally integrated voice control. Sonos Move is especially portable and can also be used on the go thanks to Bluetooth. Sonos Five delivers stereo sound even as a single speaker and Sonos Sub provides amplified bass.
Sonos soundbars in comparison – Reviews and recommendations
Below, we mention the two soundbars from Sonos, that are not only suitable for surround sound, but also as part of a multi-room system. This is practical when, for example, an exciting match of soccer is on and the score is not missed due to a break for drinks and a trip to the kitchen. Similarly, as with the speakers, Sonos Playbase and Playbar have been replaced by the newer models Sonos Beam and Sonos Arc and therefore also do not have a place in our Sonos Multiroom System review.
Sonos Beam soundbar – Recommended for movie fans with a TV under 49 inches.
If you choose the Sonos Beam soundbar, you can turn your TV evening into a 3.0 home theater experience. In other words, the soundbar replaces multiple speakers.
There are five digital class D amplifiers, four full-range woofers, and one tweeter inside. This soundbar replaces multiple speakers. Together with Sonos Sub and two additional Sonos speakers, sound fans can upgrade the 3.0-channel sound system to a 5.1 system for real surround sound. Similar to Sonos One and Sonos Move, integrated voice control is already available, resulting in true smart home control. You can even turn the TV on or off and adjust the volume via Alexa or Google Assistant. But, if you want to enjoy your evening movie with Dolby Atmos, we recommend using the Sonos Arc.
It is recommended for TVs with a length of fewer than 65 inches. This is because Sonos Beam fits perfectly under the screen and is also suitable for smaller rooms. You can also mount the Sonos Beam on a wall. It is practical that Sonos Beam is multi-room capable and can be integrated into a Sonos system.
Sonos Arc – Recommendation for Netflix and Cinema Sound Fans with TVs over 49 Inches
Sonos Arc offers a very powerful cinema experience. Compared to Sonos Beam, in Arc, the number of amplifiers is more than twice as high. While Sonos Beam has five digital amplifiers, Sonos Arc has a total of eleven. For example, some soundbars have problems delivering whispered dialogs or conversations during action scenes clearly. But Sonos guarantees crystal-clear sound during dialogs with Sonos Arc. For this purpose, the sound company collaborated with Oscar-winning sound engineers. You can also further optimize dialogs in the app. Like Sonos Beam, the integrated voice control with Alexa and Google Assistant is already integrated.
So we recommend Sonos Arc to all sound fans who want to experience the acoustics of movies and series. Dolby Atmos makes this possible. A multi-dimensional sound stage is created by Sonos Arc that surrounds you. But the connected TV also has to support Dolby Atmos. The Sonos Arc soundbar is expandable with additional speakers for surround sound or multi-room.
Sonos soundbars in comparison – The technical data
While the Sonos Beam is a powerful WLAN speaker, the Sonos Arc is a true sound masterpiece. Both Sonos soundbars already have the Alexa and Google Assistant voice assistants integrated. All in all, Sonos Arc offers much more than Sonos Beam but is more expensive as a result. If you have a small to a medium-sized room and a TV up to 65 inches, you cannot go wrong with Sonos Beam. The Sonos Arc brings cinema sound into your home in the full sense of the word.
Advice on buying the Sonos Multiroom System – The most important criteria for the purchase
It is important to consider the following aspects before deciding on speakers from the Sonos product portfolio and setting up a multiroom system, for example.
Multiroom system: This means the connection of several speakers in different rooms of a home. For example, guests at a party can have the same playlist played synchronously in every room. But it is also possible to have different music. For instance, while you listen to music in one room, another person can watch a series in the living room. All the components mentioned in our test comparison are also multi-room capable, except for the Sonos Sub.
Voice control: In terms of entertainment, voice control offers a lot of functionality. It allows users to conveniently adjust the volume on command or control compatible devices. The Sonos system is practical: Alexa and Google Assistant are integrated, and Siri can also be used under some conditions. With the competition, users also have to choose an integrated assistant when selecting a smart speaker. This is the case, for example, with an Amazon Echo for Alexa and Google Home for Google Assistant. Besides, thanks to integrated voice control, there is no need for users to buy these speakers to connect the Sonos components to it and make them operable via voice afterward.
Trueplay: This feature allows you to adjust your Sonos speakers to the room conditions. The system determines how sound is reflected back from obstacles, such as furniture or walls. To use this option, you usually need an iOS device that measures the sound via the iPhone or iPad microphones. Instead, we offer the flexible Sonos Move solution, which houses this technology in the device and does not require an iPhone or iPad for Trueplay. As well as Trueplay, it allows all music lovers to benefit from customizable equalizer settings via the Sonos app.
Apple AirPlay: If you own an iPhone or iPad, Apple Airplay allows you to stream content directly from an Apple device to a Sonos speaker. Also, Apple AirPlay works via a compatible Mac device. It then plays back the audio signal on one or more Sonos speakers. All mentioned Sonos Multiroom System components support AirPlay.
Music streaming: As opposed to the smart speaker competitors Amazon with Amazon Music or Google with YouTube Music, Sonos does not offer its music streaming service. But Sonos wants to join in with Sonos Radio and supports more than 60,000 local and global radio stations, some of them curated by well-known artists. Additionally, Sonos supports numerous streaming services that can be integrated via the Sonos app. For example, these include Apple Music, Audible, Deezer, Spotify, or Tidal. Sonos speakers with integrated voice control can be linked to the respective available accounts. You can then listen to music with Alexa or with Google Assistant.
How does Sonos Multiroom work?
With Wi-Fi speakers, the connection between different components works via Wi-Fi. Suitable models, like the Sonos speakers and soundbars, are connected to the home network and can be combined into groups in the Sonos app. After that, the Sonos speakers can play music as a multi-room system in every room on demand.
How many Sonos speakers can be connected?
You can add up to 32 Sonos devices to a system with Sonos. So, you don't have to worry about quickly reaching your limits when creating a multiroom system.
Which Multiroom System?
For a long time, Sonos has been widely recognized as a pioneer when it comes to multiroom systems. But competitors like Amazon, Google, Teufel, or Bose obviously also have a lot to offer. All these manufacturers also offer a very good sound package. The choice of the user mostly depends on individual criteria. But, with Sonos, audiophiles do not make the wrong decision. This is because all of the components mentioned in our Sonos Multiroom Test Comparison deliver a very good sound experience.
Can Sonos be connected with Bluetooth?
The components for a Sonos Multiroom System are speakers and soundbars that only support WLAN. Therefore, a connection with Bluetooth is not possible. The only component that supports Bluetooth in addition to Wi-Fi is the Sonos Move. But, you can only use the whole functionality with Wi-Fi. In Bluetooth mode, Sonos Move does not support voice control or stereo and multi-room.
Extra: Sonos Roam: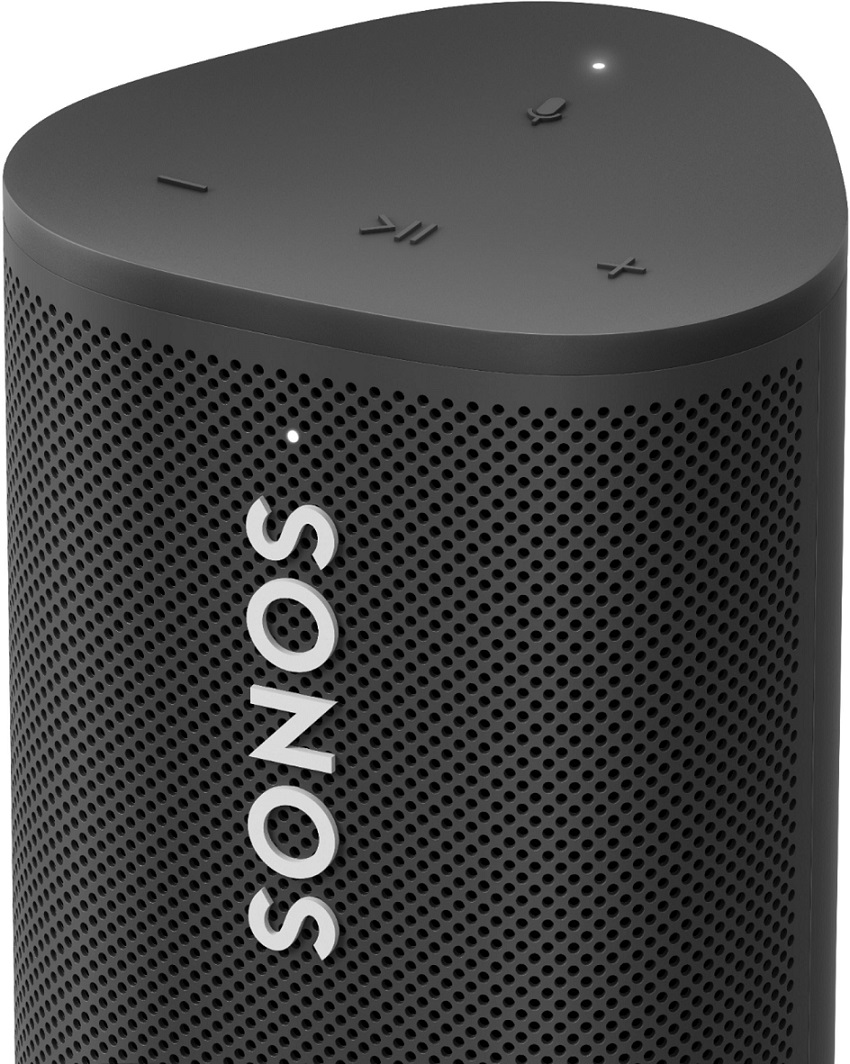 Sonos Roam Test and Review
CONCLUSION
We believe that Sonos meets all the requirements with the Sonos Roam. The Roam is a very compact Bluetooth speaker with Sonos-typical high-quality sound. It is also a smart speaker with voice control that integrates with the Sonos system and is accessible via Bluetooth for the first time. It's a perfect enhancement, particularly for Sonos users.
PROS
Very Compact
Automatic Trueplay
Alexa and Google Assistant
Which Sonos speaker is the best?
It is difficult to make a blanket statement about which Sonos speaker is the best. Sonos offers the following product selection:
Sonos One
Sonos One SL
Sonos Move
Sonos Five
Sonos Sub
Sonos Beam
Sonos Arc