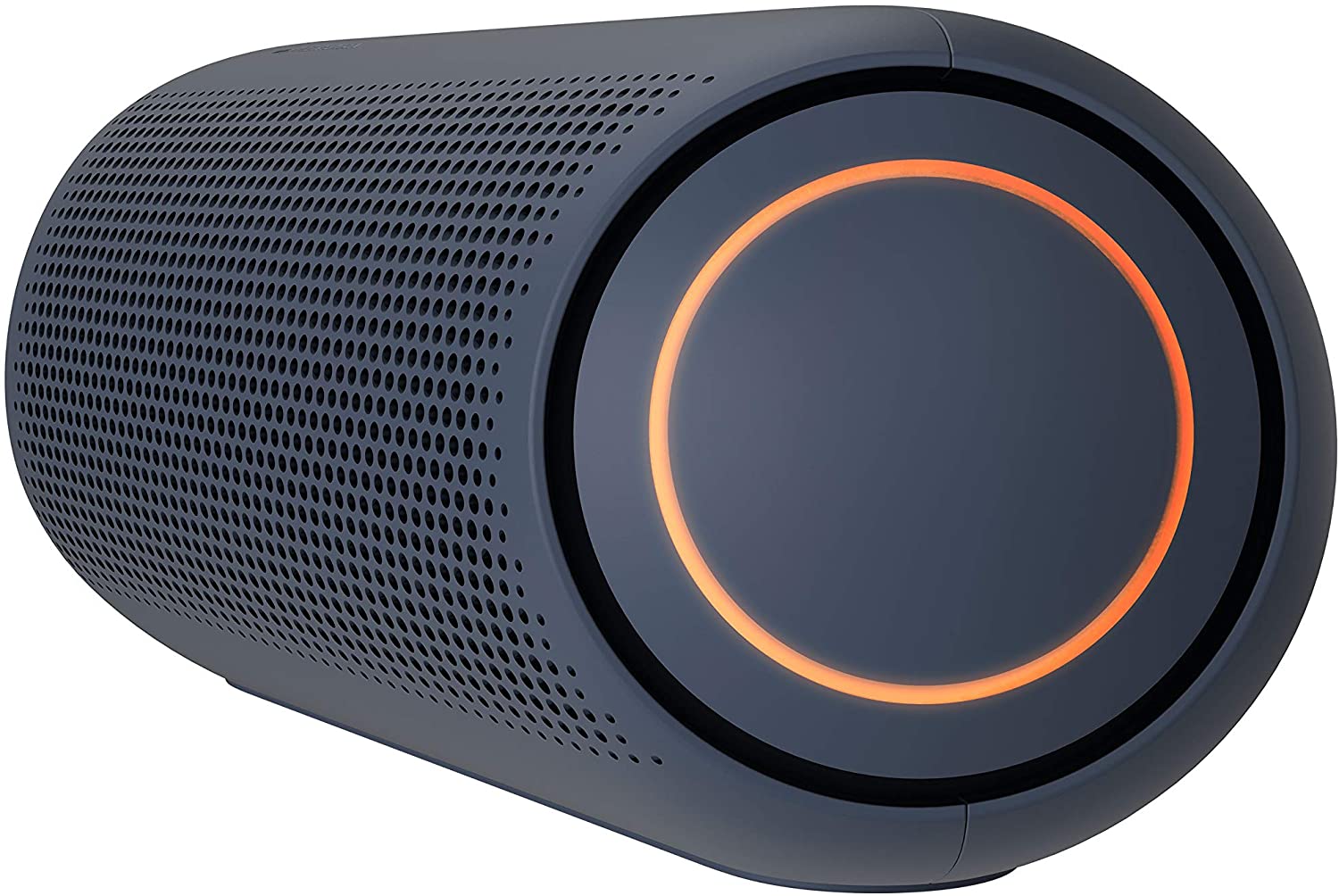 LG XBOOM Go PL5 – Test
We reviewed the LG XBOOM Go PL5 recently. This speaker, along with two others, one larger and one smaller, make up LG's first mobile speaker lineup. We will find out today whether LG can keep up with the competition directly with the first generation, or if it is even better. It can be said that it is a speaker in the small category with a total power of 20 watts, comparable to the JBL Flip 5.
Quality and design
While all the competitors are using fabric-covered speakers, the LG XBOOM Go PL5 is fully rubberized, just like the rest of the range. Thus, there are no sharp edges, and the gaps are also really good in our test model. The material is very robust, and we did not find any marks on the speaker after three weeks of use. The bass membranes on the sides are slightly beveled, and unfortunately this caused them to hit from time to time, as they are unfortunately not recessed in the casing either. This is what JBL does much better. Still, it is positive that the speakers did not suffer any damage. Additionally, the speaker is water-resistant according to IPX5, and it also managed to survive this test well. As always, the design itself is simple and timeless; in the end, it's a matter of taste.
Battery life and functions
The speaker's battery life is really good. But in our test, it does not come close to the claimed 18 hours plus. The LG XBOOM Go PL5 lasts for about 15 hours at moderate volume. At maximum volume, the speaker lasted for less than 8 hours. We are still convinced by the runtime, even though the manufacturer's specifications are not met. Still, some of the competitors do a better job in the meantime. The LG speaker can be connected to other speakers from LG's Go lineup. In addition, there is an app for the speaker, in which you have your own media player as well as the option to touch the speaker's light.
Buttons and operation
There are controls for the light as well as two buttons for connecting multiple speakers behind a flap along with the USB Type-C and jack ports. On top of the speaker, there is a power button, a button for Bluetooth, two buttons for volume up/down, one for pause and play, and a Sound Boost button. The Sound Boost button enables a predefined equalizer. Other than that, sound customization is unfortunately not possible.
Sound of the LG XBOOM Go PL5
The LG XBOOM Go PL5's sound was not very impressive. Do not get us wrong now: All in all, LG's speaker has a good performance. Anyway, let's start from the beginning. We couldn't create any distortion. Trebles and mids sound quite balanced and in most music genres this makes for a reasonable sound. The bass of the speaker is sufficient in the lower range and also comes across well, especially in low frequencies. But the LG speaker unfortunately also has the problem that most speakers of this size have: Once you get above 70% of the volume, the bass disappears almost completely.
Conclusion
Is it better to buy the speaker or not? This is a difficult question, for a good comparison, we included the JBL Flip 5 as it also has 20W. In comparison, the two speakers sound quite similar, but the LG XBOOM Go PL5 gets a bit louder but also loses the right low end a bit earlier in return. Overall, it's a matter of taste which design you like better and possibly which speaker is more affordable currently.
Technical details and information
Operation
Remote control app: Yes (for Android and iOS)
Supports voice control by mobile devices: Yes (Google Assistant and Apple Siri)
Connectivity
Supports Multipoint (connecting multiple source devices via Bluetooth): Yes (maximum two devices)
Supports wireless Party Link (connects multiple LG Bluetooth speakers): Yes, in Dual Mode and Multi-Mode (up to 100 additional LG BT speakers)
Supports BLE (Bluetooth Low Energy) for automatic music playback: Yes
Can be used as a speakerphone: Yes
Various functions
LED indicators: Bluetooth on, power on, battery level, EQ mode, dual/multi-mode (wireless party link)
Firmware updates possible: Yes (FOTA / Firmware Over The Air)
Compatible with security lock: Yes
Interfaces
Energy consumption and power supply
Powered via USB Type-C battery type Lithium-ion battery (3.8 volts / 3,900 mAh)
Battery charging time 4 hours
Battery life 18+ hours
Can be used as a power bank (via USB): No
Energy consumption (when charging the battery) 10 watts
Energy consumption (standby) 0.5 watts
Dimensions and weights
Bluetooth speaker dimensions (WxHxD) 7.9 x 3.1 x 3.1 inches (20.1 x 7.9 x 7.9 cm)
Weight of the Bluetooth speaker 1.4 pounds (0.62 kg)
Accessories
Included in delivery: Quick start guide, USB cable type-C, warranty card, and of course the speaker.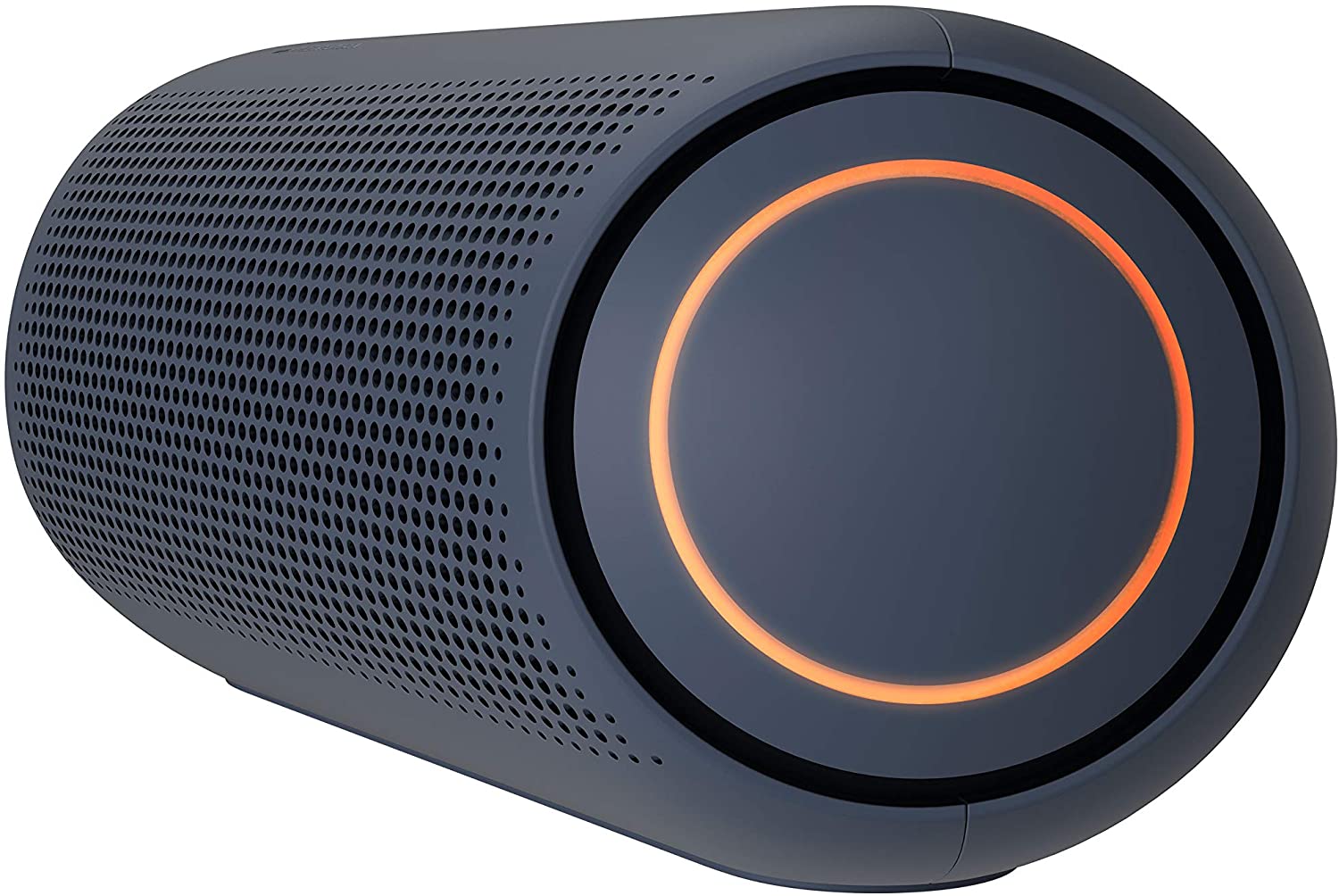 PROS
Good sound
Type-C and jack ports
Different Lights
Fully rubberized
CONS
Bass performance
Design