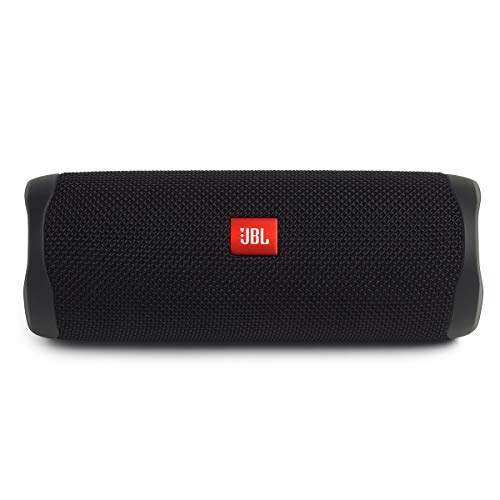 Introduction
The JBL FLIP 5 is a testament to the evolution of portable audio devices, embodying the fusion of robust design, portability, and high-quality sound. This small, yet powerful Bluetooth speaker is a standout in JBL's renowned lineup, catering to the needs of music enthusiasts who demand durability, flexibility, and exceptional audio performance in their on-the-go lifestyle. Crafted with a sleek black exterior, the FLIP 5's design is both aesthetically pleasing and functionally robust. Its waterproof feature, certified with an IPX7 rating, ensures that it can withstand splashes and even full immersion in water, making it an ideal companion for pool parties, beach outings, or even a relaxing bath. This feature alone sets it apart from many competitors, offering peace of mind to users who frequently engage in outdoor activities.
The sound quality of the JBL FLIP 5 is nothing short of impressive. Equipped with JBL's signature sound profile, it delivers clear, powerful audio that can fill a room or animate an outdoor space. The bass is deep and punchy, a signature feature of JBL speakers, ensuring that bass-heavy tracks are delivered with the depth and intensity they deserve. Additionally, the speaker's PartyBoost feature allows for pairing with other JBL PartyBoost-compatible speakers, creating an amplified, stereo sound experience ideal for larger gatherings. Battery life is another hallmark of the FLIP 5. With up to 12 hours of playtime on a single charge, it outlasts many portable speakers in its category, allowing for uninterrupted music enjoyment throughout the day.
The USB-C charging capability adds a modern touch, ensuring quick and convenient charging. Moreover, the portability of the FLIP 5 is remarkable. Its small size and lightweight design make it easy to carry around, whether in a backpack, a purse, or even in hand. This portability does not come at the expense of build quality. The rugged rubber housing and durable fabric material protect the speaker from bumps and drops, making it a reliable choice for travel and outdoor adventures.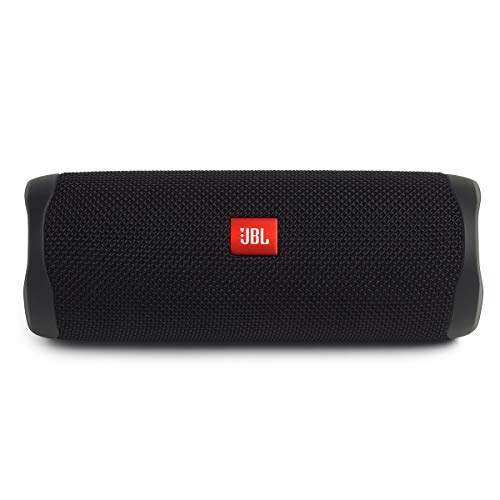 Audio Quality: A Symphony in a Small Package
The JBL FLIP 5 is a marvel in the realm of portable speakers, offering an auditory experience that belies its compact size. Its engineering focuses on delivering a sound that is both rich and full-bodied, a characteristic that JBL has perfected over the years. The speaker's optimized racetrack-shaped driver delivers high output and deep bass, providing a listening experience that is both immersive and dynamic. The clarity of the mids and highs is commendable, ensuring that every note, whether from a strumming guitar or a soaring vocal, is rendered with crispness and detail. This speaker is particularly adept at handling a variety of music genres, from the subtle nuances of classical music to the pulsating rhythms of EDM.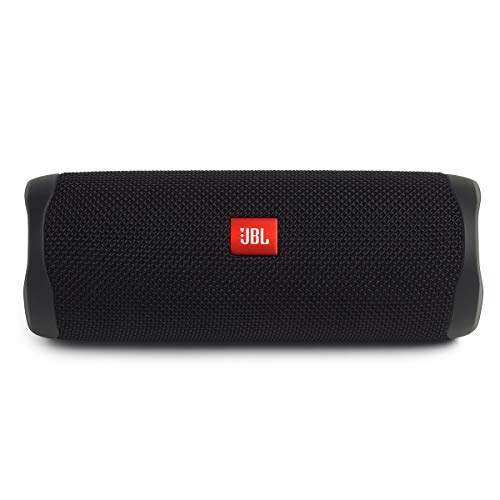 Build and Design: Elegance Meets Durability
The design of the JBL FLIP 5 speaks volumes about its functionality and durability. Encased in a rugged rubber housing and covered with a durable fabric material, the speaker is built to withstand the rigors of frequent use and travel. Its cylindrical shape is not only aesthetically pleasing but also practical, facilitating easy handling and storage. The IPX7 waterproof rating is a standout feature, providing the assurance that the speaker can endure splashes and even full immersion in water. This feature is a boon for users who love to take their music to pools, beaches, or even showers without the fear of water damage.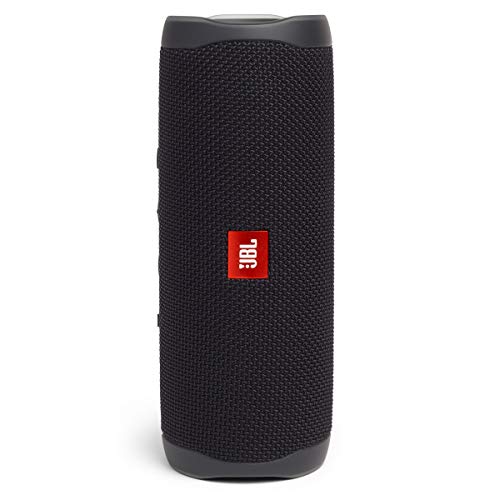 Connectivity and Features: Seamless and Innovative
JBL's FLIP 5 excels in connectivity, offering a hassle-free Bluetooth pairing experience. The speaker maintains a stable connection with devices, ensuring uninterrupted playback. The PartyBoost feature is a significant addition, allowing users to connect multiple JBL PartyBoost-compatible speakers for an amplified and stereo sound experience. This feature is particularly useful for large gatherings or parties, where a single speaker might not suffice. The ease of use is further enhanced by the intuitive button layout, which makes controlling the speaker's functions straightforward, even for first-time users.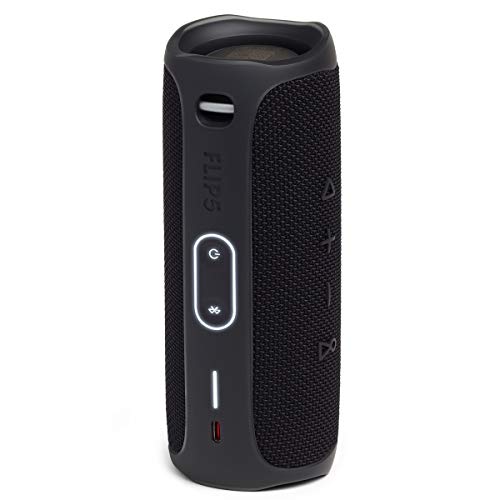 Battery Life and Charging: Endurance to Match Your Lifestyle
Battery performance is a critical aspect of any portable speaker, and the JBL FLIP 5 excels in this area. With a robust battery life of up to 12 hours on a single charge, it ensures that your music continues throughout the day without the need for frequent recharging. This endurance makes it a reliable companion for long outdoor trips, beach days, or even just a full day of music at home. The inclusion of a USB-C charging port is a thoughtful touch, aligning the speaker with modern charging standards and ensuring faster and more efficient power-ups.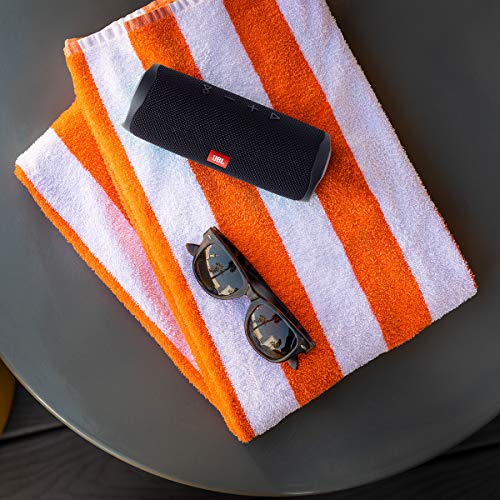 Portability: Music on the Go
Portability is at the heart of the FLIP 5's design. Its compact and lightweight build makes it an ideal choice for music lovers who are always on the move. Whether it's a quick trip to the park, a weekend getaway, or a day at the beach, the FLIP 5 is effortless to carry along. This portability doesn't compromise the speaker's sound output, which remains powerful and immersive, regardless of its surroundings.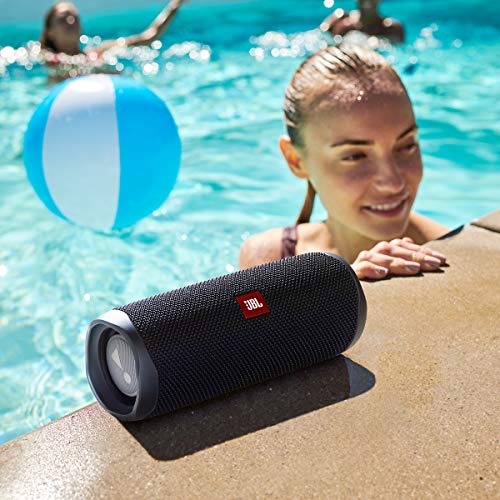 Conclusion
The JBL FLIP 5 Waterproof Portable Bluetooth Speaker is a masterclass in balancing sound quality, durability, and portability. Its robust construction, coupled with superior sound performance and user-friendly features, make it a top contender in the portable speaker market. It's a testament to JBL's commitment to delivering audio excellence in a compact form.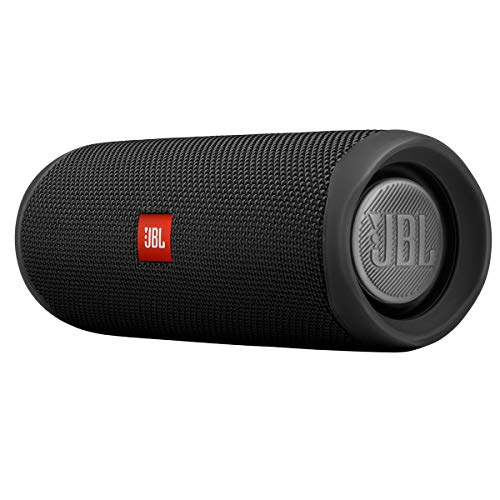 PROS
Exceptional sound quality
Robust waterproof design
Long battery life
User-friendly connectivity
Highly portable
CONS
No voice assistant integration
No 360-degree sound
Limited color options
Absence of a microphone
No AUX input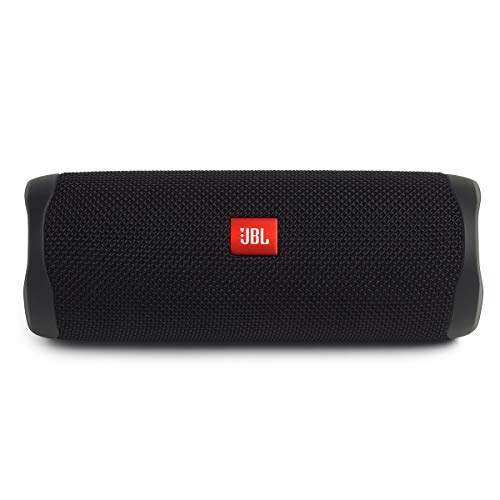 JBL FLIP 5, Waterproof Portable Bluetooth Speaker, Black, Small
CONCLUSION
In conclusion, the JBL FLIP 5 stands out as an exceptional portable Bluetooth speaker, ideal for a wide range of users. Its combination of robust waterproof design, superior sound quality, and portability make it a top choice in its category. The speaker's ability to produce a rich, clear, and powerful audio experience enhances every musical genre, from classical to electronic dance music. The FLIP 5's waterproof feature greatly expands its versatility, making it suitable for all types of adventures, whether indoors or outdoors. Its long battery life ensures that users can enjoy their favorite tracks all day without worrying about recharging. Moreover, the PartyBoost feature is a significant addition, allowing for a collective and immersive sound experience when connected with other compatible speakers. JBL's commitment to quality is evident in every aspect of the FLIP 5, from its durable build to its excellent audio performance. Whether for personal use or as a gift, the JBL FLIP 5 is an investment in quality and convenience. It is a speaker that not only meets but exceeds expectations, providing a sound experience that belies its compact size. This speaker is ideal for anyone seeking a portable, high-quality audio device that can keep up with an active, music-filled lifestyle.
PROS
Exceptional sound quality
Robust waterproof design
Long battery life
User-friendly connectivity
Highly portable
CONS
No voice assistant integration
No 360-degree sound
Limited color options
Absence of a microphone
No AUX input