Best Webcams for Zoom Meetings, Microsoft Teams etc.
Changes in learning systems force schools to implement distance education or online learning and best webcams are in demand. With the Corona pandemic, both parents and students are being forced into the home office and online learning. Streaming expert knowledge on platforms such as YouTube and Twitch are also gaining in importance at the same time. Webcams play a major role here.
And yet, not all webcams are good. In our webcam review, we introduce the best models from Logitech, Aukey, and Anker, explain the differences and what you should look out for when buying a webcam. We also show where you can find great deals and save money.
The most important facts in a nutshell
Many laptops come with built-in webcams. But if you want to present yourself professionally online, there's no getting around having a separate webcam. There are three types of webcams:
Built-in webcams: Built-in webcams in laptops and tablets. Often, they are of poor quality and cannot be freely positioned to change the viewing angle.
Standard webcams: These are the classic everyday webcams. Some good models can be positioned at any angle. Classic webcams are suitable for streaming experts and video recording.
Streaming cams: This type of webcam is mostly designed for gamers who need a high frame rate so that the frame rate of the games can be matched with the video frame.

In our review for best webcams, we focused on standard webcams that are most suitable for distance learning and home office use. The range of webcams is vast. Our webcam suggestions are divided according to use and offer good quality for every budget.
Logitech C270 HD Webcam – Recommendation for Home, Online Learning & Home Office
The Logitech C270 HD Webcam is an affordable device that only offers HD resolution but still has good quality. The Logitech software allows users to adjust many camera settings. The installation is done via Plug&Play. The camera's field of view of 60 degrees is ideal for private use: The person appears prominently in the picture and the entire home office is not visible. Tell me more about Logitech C270 HD Webcam.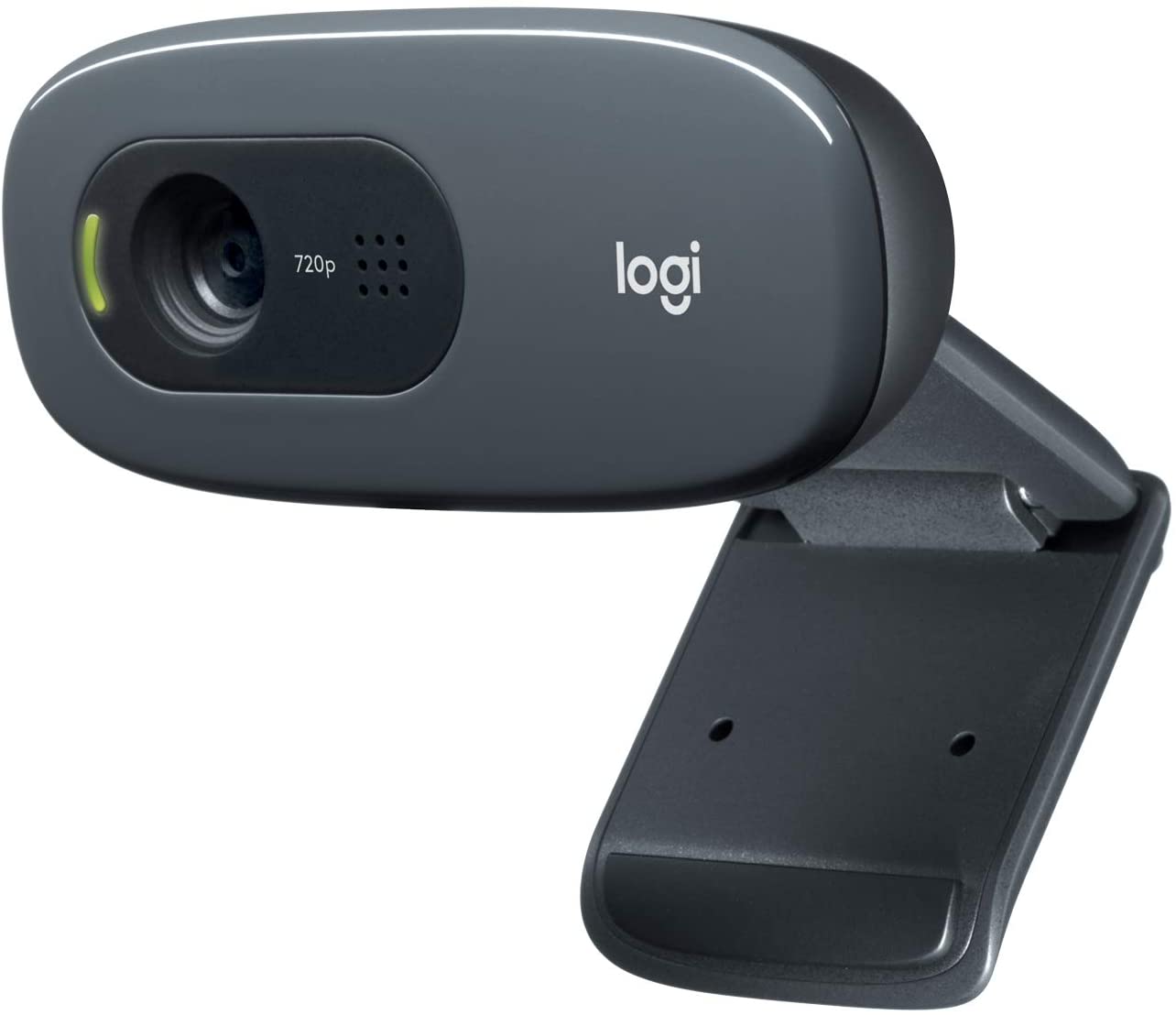 Logitech C270 HD Webcam – Test
CONCLUSION
With the Logitech C270 HD, users get a good and low-priced webcam that allows for a lot of settings, which allows users to put themselves in the right light. No matter if it's a video call with family and friends or an online job interview: You can simply trust the Logitech C270 HD.
PROS
App for camera adjustments
Low price
Good picture quality
CONS
Fixed focus
Mono microphone
Anker PowerConf 300 webcam – Ideal for YouTubers, lecturers, and business professionals
Anker offers a state-of-the-art device with a Full HD resolution and frame rate of 60 fps with its PowerConf 300 webcam. The camera is intended for professional users and features AI-supported functions. For instance, the camera's focus is designed to stay centered on the person in front of the lens all the time. Also, Anker offers PowerConf 300 HDR and three different wide-angle settings.
Logitech BRIO ULTRA-HD PRO Webcam – Best for Webinar Professionals and Streamers
The Logitech BRIO ULTRA-HD PRO is a professional camera. With its autofocus, glass lens, and high frame rates, it's the first choice for anyone who also records YouTube videos, streams, or conducts paid webinars. This webcam is also suitable to be used in meeting rooms. Tell me more about Logitech BRIO ULTRA-HD PRO Webcam.

Logitech BRIO ULTRA-HD PRO (4K) – Test
CONCLUSION
When it comes to webcams, the BRIO ULTRA-HD PRO is Logitech's showpiece. With this camera, the manufacturer targets professional users such as YouTubers, video bloggers, or companies and organizations that need a professional webcam for webinars, for example. The camera's build quality is very high, and thanks to the high UHD resolution, YouTubers can make their streams available in 4K on Google's video platform or Amazon's Twitch service.
PROS
4K UHD resolution
HDR support
5x digital zoom
Stereo microphones
AUKEY PC-LM1E Webcam – Low Budget Recommendation Full HD Webcam
The AUKEY PC-LM1E has Full HD resolution and very good picture quality for a low price. The camera view angle is very wide so that two people can easily sit side by side in front of the camera. This means that the camera covers the left and right of the user in the home office. Windows built-in tools are used for camera settings. Tell me more about AUKEY PC-LM1E.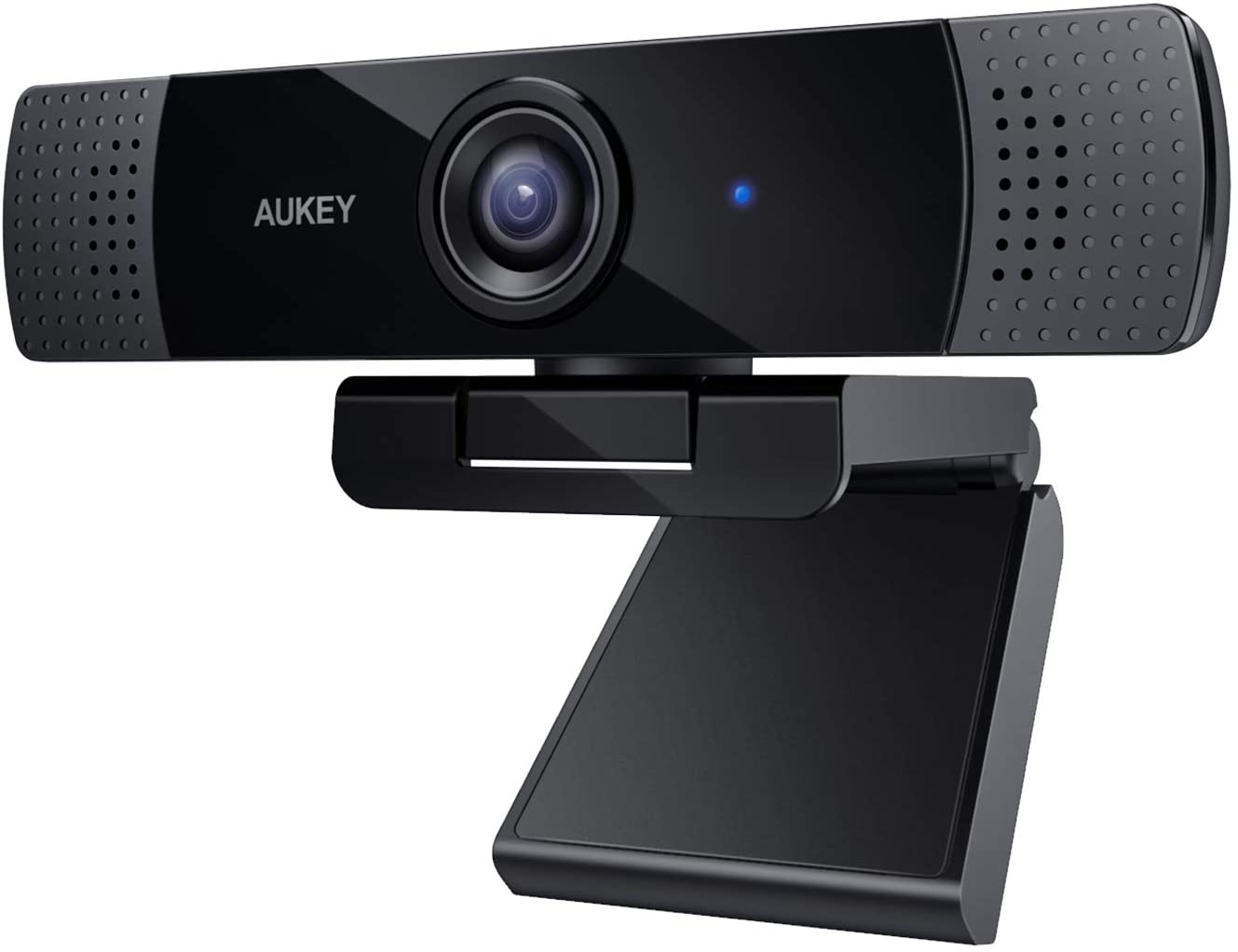 AUKEY PC-LM1E FHD Webcam – Test
CONCLUSION
In our opinion, the AUKEY PC-LM1E 1080p still offers a good price-performance ratio for just under 30 Dollars. The camera image that the AUKEY Full HD webcam transmits is quite good – this is definitely the webcam's strong point. Thanks to USB Video Class Standard, the camera offers true Plug&Play. This makes searching for drivers a thing of the past.
PROS
Easy installation
Good full HD picture quality
Price
CONS
Sound quality is not great
Angle wider than the specified 65 degrees
Blue Microphones Snowball iCE USB Microphone – Webcam Accessories Recommendation
Despite all the efforts of webcam manufacturers, the audio quality is limited, partly due to the size limitations of the devices. If you want to use a webcam professionally for YouTube videos, for presentations to an audience, or live webinars, then we recommend getting a good external microphone. The Blue Microphones Snowball iCE USB microphone is a good quality microphone at an affordable price. Tell me more about external microphones.
Recommendation criteria
In our webcam review, we focused on recommending a high-quality device that offers a good price-performance ratio for each type of user. In terms of picture quality, a well-made and adjusted 720p webcam with a fixed focus can easily beat a 1080p webcam made by a low-cost manufacturer. The Logitech 920 HD PRO camera is a popular classic with an auto-focus feature, but it only features a frame rate of 30 fps. Meanwhile, Anker's PowerConf C300 webcam offers a good 60 fps at Full HD resolution, and users who record videos for YouTube will be pleased.
We evaluated the webcams according to our tried-and-tested 360-degree principle, as we did in the other reviews. In other words, we not only include our own experiences in our evaluations but also look at the test results of other reviewers, for our verdict. Doing this prevents the so-called "tunnel vision" that often occurs when editors only review the devices of a few manufacturers and only rate them based on their own opinions. We also looked up customer reviews in addition to webcam tests.
The most important criteria for the purchase
There is an increasing trend to work remotely, not only because of Corona. Work from home and online learning is becoming more and more important. As a result, video conferencing, video chats, and online collaboration tools are on the rise. While many notebooks have built-in webcams, these do not meet the requirements of professional users. For example, the picture quality of cheap devices often does not reach HD quality (720p).
A good webcam allows users to communicate with colleagues, the boss, or distant friends at eye level. Since the devices are made for long life, it is worth paying attention to quality. The following criteria should be considered before buying a webcam.
Webcam resolution: When looking for a webcam, you should go for a device that offers at least HD resolution. You can also easily recognize it by the term 720p. Full-HD cameras offer a better resolution (1080p) and 4K UHD represents the current ultimate.
But you should not forget that the higher the resolution, the higher the power requirements for the laptop or computer. Transferring video images in 4K UHD requires a free USB 3.0 port for reliable transmission.
Webcam frame rate: Here, the frame rate is specified in fps (Frames per Second). It, therefore, tells you how many frames the webcam transmits in one second. Obviously, the higher the number, the smoother the video image and the higher the power demand on the computer or notebook. Webcam resolutions of 1080p at 60 fps can be considered a pretty high value. In the 100 dollars price range, 1080p at 30 fps and 720p at 60 fps are quite usual.
Webcam camera field of view: The camera field of view shows the wide-angle coverage of the webcam lens. Typically, the higher the value, the more space is transmitted to the left and right of the person in front of the camera. If more than one person is to be in the picture, a table where several objects are presented, or a flipchart, then a high value is advantageous. For those who are looking for a webcam for one-on-one conversations with the boss or colleagues, or who like to video chat with friends, a camera with a smaller viewing angle is preferable.
Webcam focus type: Fixed focus or Autofocus? Well, the answer is often about the price. Webcams with autofocus use mechanical lenses that automatically adjust to the object in front of the lens. For instance, if you place a device in front of the lens to show detail or move around in front of the camera often, autofocus is a good choice. In the case of a fixed focus webcam, the focus is always set to infinity, no mechanical parts move, which is seen in the price. When the person in front of the camera moves, the focus is blurred. For persons or people in meetings who tend to sit more statically in front of the webcam, a fixed-focus webcam is enough.
Webcam microphone: Some expensive webcams offer two microphones for stereo recordings. But even though the integrated microphones usually sound better than the built-in microphones in notebooks, practically none of the integrated webcam microphones are as good as a good condenser microphone. Anyone who wants good audio should follow our recommendation and consider a good external mic in the medium to long term.
Webcam mount & tripod mount: A great advantage of webcams is that they can be freely positioned. Usually, webcams are clipped to the monitor, and the upper part of the camera can also be rotated so that users can always present themselves from their best side. More professional devices also have a tripod mount, which allows the device to be placed on a tripod.
If you are giving webinars or video chatting with customers, you should definitely choose a model with a tripod mount and make use of it.
Webcam Plug & Play: Thanks to the USB Video Class specifications (UVC), webcam users no longer have to search for drivers. If the webcam is UVC-compliant, it just requires a USB connection to a computer.
Webcam software: A major advantage between cheap devices and well-known manufacturers like Logitech is the availability of webcam software. For example, Logitech has its development department that provides operating software for the devices. This allows users to make manual camera settings. The installation of the software is optional. Optionally, users can also use the settings of the Windows operating system, but this is limited for many webcams.
Webcam support: If you want to use a webcam professionally and expect technical support, then you should buy a well-known webcam. Low-priced webcams sometimes disappear from the market quickly and are not available for support in case of any questions about the product.
Logitech C270 HD
The Logitech C270 HD camera stands out from the other webcams in our review comparison in that it is limited to basic functions at first sight. These are summarized in a nutshell: Fixed focus lens, 720p HD resolution, and mono microphone. On the other hand, there is an extra: The Logitech C270 HD Webcam has the advantage of the high expertise of Logitech's engineers. This means the technical components are well-adjusted to each other and users can customize the cam thanks to Logitech software.
Also, the Logitech C270 HD Webcam has a low resource consumption in terms of CPU power and bandwidth. This makes the camera perfect for use with slower devices. Users can enhance their online presence in online meetings and video chats considerably with the camera without having to spend a lot of money.
In our opinion: It is better to buy a very good basic webcam like the Logitech C270 HD instead of a cheap webcam that offers a lot and only delivers a little.
Price and best offers for the Logitech C270 HD
Anker PowerConf C300
With the Anker PowerConf C300, the manufacturer expands its portfolio of conferencing solutions. Anker managed to make a good name for itself already with its audio brand Soundcore. So users have the opportunity to make a good deal with the premium product. This is because brand manufacturers usually make a big effort with the initial devices when it comes to entering new markets.
You can also see that in the Anker PowerConf C300 webcam. It has 1080p with a frame rate of 60fps. That is quite impressive and makes the webcam ideal for users who record video presentations and make them uploadable to YouTube. But streamers will also be pleased with the Anker PowerConf C300 thanks to the high fps rate.
The Anker PowerConf C300 is one of the most advanced models available on the market, which can also be seen in its features. For instance, Anker uses AI support. The AI is used to help the camera keep the focus on the person in front of the cam, even if someone in the background is walking through the recording area, for example. This is something that can easily confuse traditional autofocus systems. Also, the AI is supposed to keep the camera from only following deliberate movements and not the quick grab for a water bottle or coffee cup.
Also, Anker PowerConf C300 is offering three different camera fields of view including 78 degrees for close-ups, 90 degrees for center view, and 115 degrees for the widest field of view, for instance, when streaming a team meeting with multiple people from a meeting room.
In summary, the Anker PowerConf C300 offers users a powerful and advanced business webcam at an affordable price.
Price and best offers for the Anker PowerConf C300
Logitech BRIO ULTRA-HD PRO
The Logitech BRIO ULTRA-HD PRO has a special position in our webcam test comparison. The BRIO ULTRA-HD PRO is the most powerful cam and the only model in our comparison that supports 4K UHD resolution. This is especially important for 4K video streams that users watch on their TVs via a streaming stick or on a 4K monitor. Users need a free USB 3.0 port to be able to send the large amounts of data generated by 4K recording from the Logitech BRIO ULTRA-HD webcam to the computer.
As with Anker's PowerConf, the Logitech BRIO ULTRA-HD PRO offers a customizable field of view. You can choose between camera fields of view of 65, 78, and 90 degrees. Windows 10 users can be happy about the support of Windows Hello, which is a special plus that only a few webcams provide so far. The Windows Hello feature is a facial recognition function that can be used to unlock Windows without a password.
When it comes to streaming, Logitech BRIO ULTRA-HD PRO offers a frame rate of up to 90 fps. But the 90 frames per second are only possible with a resolution of 720p. Yet even at the 4K UHD resolution, the Logitech webcam still offers 60 fps, so it is very suitable for creating high-quality video content for YouTube – assuming you have the appropriate hardware. The 4K content can then be streamed to the screen via the Fire TV 4K UHD Stick for playback on the home TV, for example.
Price and best offers for the Logitech BRIO ULTRA-HD PRO
AUKEY PC-LM1E
In webcams tests, the AUKEY PC-LM1E is often compared with the Logitech C920 HD PRO. But both cameras are significantly different in terms of their technical features. We quickly list the strengths of the AUKEY PC-LM1E: It offers a very good picture that can compete with the Logitech C920 HD PRO. But, AUKEY PC-LM1E only offers a fixed-focus lens and not autofocus like its competitor.
Regarding the audio quality, AUKEY PC-LM1E also has dual microphones for stereo recordings, yet users complain about slight background noise. Considering the good Full HD picture quality, this is not a problem for the AUKEY cam for just about 30 Dollars. For those who regularly or frequently perform video conferences, we recommend using a good external microphone, such as the Blue Microphones Snowball iCE USB-Mic, which is our recommendation.
According to AUKEY, the camera's field of view is 65 degrees. But, the webcam showed a much wider camera image in tests. This means that two people can easily fit in front of the camera. For home office workers, the picture also covers parts of the area to the left and right of the person. On the other hand, freelancers or start-ups with a small budget will find an inexpensive webcam that is also suitable for presentations.
Price and best offers for the AUKEY PC-LM1E
Logitech C920 HD PRO
When it comes to high-quality webcams, the Logitech C920 HD PRO webcam is one of the all-time favorites and has set the standard for a long time. The camera is now a bit outdated and is technically overtaken by webcams like the Anker PowerConf C300. This is particularly noticeable in the frame rate. The Logitech webcam has a frame rate of 30 fps – both in Full HD resolution and in 720p HD resolution.
The Logitech C920 HD PRO webcam is perfect for those who are looking for a frame rate of 30 fps and a camera with real autofocus and a glass lens. This results in a good picture. Additionally, there is the Logitech webcam software, allowing users to make better camera settings than the Windows default settings offer. In terms of price, the webcam is available at a lower price than the Anker PowerConf C300, which offers 60 fps.
With the generational shift that the Anker PowerConf C300 has started in terms of features among Full HD cameras, the Logitech C920 HD PRO has a more difficult time finding its place among webcams. In our opinion, this one is between the AUKEY PC-LM1E and the Anker PowerConf C300 and is likely to satisfy the ambitious home office user.
Price and best offers for the Logitech C920 HD PRO
In our webcams review comparison, we recommend the following models:
Logitech C270 HD – Webcam recommendation for private use, home office, and online learning
Anker PowerConf C300 – Webcam recommendation for professional use in Full HD
Logitech BRIO ULTRA-HD PRO – Recommendation for professional use in 4K UHD
AUKEY PC-LM1E – Low budget recommendation with Full HD
Logitech C920 HD PRO – Outdated but still a good recommendation with Full HD
How much does a webcam cost?
There are huge differences in the price of webcams. The higher the resolution and frame rate, the higher the price of a webcam. You can buy good fixed-focus webcams with 720p resolution (Full HD) for around 30 Dollars. When looking for a good auto-focus webcam with 4K UHD resolution, expect prices around 200 Dollars.
What is a webcam?
For most users, a webcam is a camera that connects to a computer via a USB cable. Webcams transmit the video image via the Internet among two or more participants in a meeting. Typically, webcams also have built-in microphones, which enable video calls or team conferences. Additionally, so-called collaboration programs are needed. Some examples are Skype, Zoom, GoToMeeting, or Microsoft Teams. In these programs, the webcam can then be selected for video and audio communication. Most laptops already have webcams integrated.
Why do I need webcams?
Webcams make it possible to communicate remotely without losing non-verbal communication, as is the case with phone calls. Also, experts use best webcams for webinars, where they share knowledge with a large number of people. But this often requires specialized webinar software such as GoToWebinar, which allows users to automate the registration process as well as reminder emailing.
The increasing streaming services and online video platforms such as Twitch and YouTube have expanded the fields of application for webcams. For example, webcams can be used by users to record videos and then upload them to YouTube. In other words, the participants do not have to be online simultaneously with the webcam user. In the Twitch video platform, which is mainly used by gamers, webcams are used for streaming while playing games. In addition to the game content on the monitor, the live image of the gamer is then streamed via webcam as a small section of the image. This makes the webcam a so-called "face cam".
What are the advantages of webcams?
The advantages of webcams are as follows:
Enhancing laptops or PCs with a video calling capability.
Replace poor quality built-in cameras and microphones in notebooks
Remote collaboration with colleagues
Cheap alternative to expensive conferencing systems
Multi-purpose for video calls, video recording, and streaming
Allows working from home office
Provides a solution for home education
What is the disadvantage of webcams?
The main disadvantage of webcams:
Privacy at risk. Managers or friends might expect the webcam to be used all the time. If the webcam is used in the home office, then colleagues and managers can get a glimpse of where you live.
How does a webcam work?
This is how webcams work: Using a lens, video images are sent via the Internet to a video chat program such as Skype or Zoom, which then shows them on the monitor of the participants in the communication. If the webcam supports audio, then the sound is also sent over the Internet connection.
How to install a webcam?
Some years ago, in the early years of webcams, users needed to install device drivers from the manufacturers on their computers during the setup process. This has become obsolete with the introduction of the USB Video Class specifications (UVC). Today, if the webcam meets the UVC standard, users simply plug the webcam into the computer's USB port. It is then automatically recognized and set up. This is therefore a true plug & play installation.
Webcam manufacturers also offer software that is tailored to their models, which can optionally be installed by the user. This software allows the user to change camera parameters such as brightness, contrast, color intensity, etc.
No-name products only offer settings via their Windows built-in software, as they usually do not have software development departments.
Which brands offer webcams?
Some reputable providers of webcams include:
These are the available webcam resolutions
720p or HD webcam resolution: 1,280 x 720 pixels

1080p or Full HD webcam resolution: 1,920 x 1,080 pixels
4K or UHD webcam resolution: 3,840 x 2,160 pixels